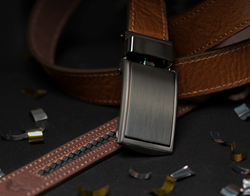 Sacramento, CA. (PRWEB) August 16, 2017
Of the roughly 7 million privately-held companies in the country, most can only dream of landing a coveted spot on the 2017 Inc. 5000 list of America's fastest-growing private companies, which was announced today. Few actually have the type of astronomical year-over-year growth required to be considered for this prestigious list.
Count the Northern-California-based company, SlideBelts, among the select few who've been on the distinguished list not just once, but twice. Now that this innovative ratchet belt company has landed on Inc. 5000 for the second consecutive year, they have earned renewed bragging rights for another 365 days until next year's list is revealed.
The 10-year-old company has grown markedly over the past few years in particular, landing at #151 on last year's Inc. 5000 list thanks to four-year growth totals topping out at a whopping 2,365.32%. SlideBelts ranks at #570 this year with nearly 1,000% growth — which is still impressive, especially considering such remarkable growth is more difficult for retail companies. This is due to the added challenge of scaling production to match growth, since retail companies have to pay their manufacturing costs up front. Conversely, a tech company that sells software can replicate as many copies as it needs in order to match the demand in sales — virtually instantly and with little cost.
The company is on a hot streak this year, with its newest Inc. 5000 honor coming on the heels of one of the most successful equity crowdfunding investment offerings of all time. SlideBelts, which sought investors via a provision of the newly-enacted JOBS Act, raised the legal maximum for Regulation Crowdfunding of $1.07M, a staggering 7x more than the company's original target amount. To date, SlideBelts is one of only 7 companies to have raised the $1.07M max.
SlideBelts isn't slowing down or resting on its laurels anytime soon. In addition to continuing to add on to their ever-growing team, currently at 31 employees, the brand also has some very exciting products currently in research and development. Most notably is the GPS belt, slated for launch in 2019, which can provide search and rescue capabilities almost anywhere in the world at the touch of a button. Additionally, the company is preparing to launch its revamped women's line later this fall, with an improved buckle design and an array of new colors.
Considering SlideBelts' humble beginnings from founder Brig Taylor's college apartment, this recent string of successes is both hard-earned and well-deserved. With their innovative approach to products and business, a third straight Inc. 5000 honor next year is definitely not out of the question.
About Inc. 500 and Inc. 5000
Inc. Magazine, founded in 1979 and based in New York City, is an American monthly publication focused on growing companies. The magazine published an annual list of the 500 fastest-growing private companies in the U.S., the "Inc. 500", which was introduced in 1982. The Inc. 5000 is an expansion of the Inc. 500, which ranks the country's top 5000 fastest-growing private companies and also features a special ranking of the top 10% of the list as the Inc. 500.
The Inc. 500 is ranked according to percentage revenue growth over a four-year period. To qualify, companies must have been founded and generating revenue by the first week of the starting calendar year, and therefore able to show four full calendar years of sales.
About SlideBelts
With a passion for quality and an itch for innovation, SlideBelts has been making ratchet belts for nearly a decade, marrying function and fashion into one versatile accessory. With a full range of style and color options and interchangeable buckles, SlideBelts allow for mix-and-match customization for any occasion. From the office to the golf course, SlideBelts will be the most versatile fashion accessory you own.