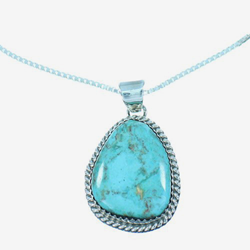 The effect it's having on the Native community is truly devastating.
(PRWEB) August 25, 2017
The Indian Arts and Crafts Act was created to stop people from copying Native American designs and police online sales of fake jewelry as well. This act was made with the intent to criminalize the buying and selling of fake Native American art or jewelry when it is not. However, there seems to be more and more people trying to get away with it than ever before.
NativeAmericanJewelry.com, an online seller of Native-made art and jewelry is trying to spread awareness of this epidemic and urges people to search for respected sellers for their Native jewelry needs. The spokesman of the company, Steven Onida, gave a few words about this recent influx of fake Native American jewelry flooding the markets:
"It's no surprise that people are trying to sell fake Native art. The rise in Native culture since 2016 alone is enough to get into the market. As a company that partners and meets with Native artists, I'm truly horrified and I hope that people take a stand wherever they come across people trying to make a quick buck off of fakes. We are mainly seeing this happen in small areas, dominantly in Santa Fe, but to a lesser degree, it's happening across the country. The effect it's having on the Native community is truly devastating."
Onida and the team at NativeAmericanJewelry.com take great pride in the work they do and the artists they represent. They want to offer people advice when they go out to shop for Native pieces so they can learn to better identify legitimate retailers.
The first thing people should ask for is what tribe made the piece. Those that actually sell Native art and jewelry should know the tribe, artists, and be able to tell people a bit about the piece as well.
The next thing that people should look for, advises Onida, is the materials used to make the piece.
Typically, Native jewelry features both turquoise and real sterling silver; both materials are often faked when people try to sell them. Doing some at-home research can go a long way to help people learn how to identify fake Native American jewelry.
For more information or to see more Native American pieces, people can go to NativeAmericanJewelry.com.