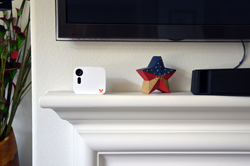 San Mateo, CA (PRWEB) August 16, 2017
Today - August 16, 2017 - in partnership with Amazon Rekognition, Butterfleye is introducing a proprietary facial recognition technology on its high definition (1080p) wire-free security cameras. Butterfleye's facial recognition technology has the ability to identify and verify the face of individual peoples or pets and turn these intelligent insights into actionable information.
Butterfleye was built to get smarter over time, Facial Recognition is available on all new cameras as well as existing cameras. Being able to upgrade the software on the camera was a major goal when designing Butterfleye. "Our community wants insights from the camera, actionable information that can be produced in a holistic manner," said Ben Nader, CEO & Founder of Butterfleye. "In a world of information, many wonder what does all this data truly mean? Butterfleye has designed smart and reliable notifications, which allows our community to live their life with peace of mind."
The Butterfleye experience starts with a beautifully, thought out design that incorporates advanced software:
1080p HD Video - All live streams and downloadable events are captured in full HD. Butterfleye is shipped with a world class image sensor to make sure all videos are crystal clear and you're never left wondering what was in the video.
Accurate, Trusted, Instant Alerts - Butterfleye's PIR sensor allows Butterfleye to give its community the most accurate alerts in the industry. While many others either miss or give you false negatives, Butterfleye knows when it's just a tree causing motion or the wind howling.
Facial Recognition - Butterfleye captures and catalogues every face it sees, in partnership with Amazon Rekogniton, we are able to bring deep insights into who these people are and how they prefer their environment to be.
2-Way Audio - Butterfleye allows an unlimited number of connected devices to each camera with the ability to talk from the Butterfleye app to the Butterfleye camera. You can tell Fido to get off the couch or the burglar he is on video and to leave immediately.
Butterfleye is available now on http://www.getbutterfleye.com with an MSRP of $199.99 and ships with Facial Recognition.
About Butterfleye:
Butterfleye believes in smart solutions to protect you, your home, your business, and your privacy. We develop security platforms that combine activity-based recording, facial recognition, and military-grade technology to decide when to record and when to disarm, placing our products at the optimal intersection of security and privacy. Our systems enable you to have eyes where you can't be and an encrypted, secure recording backed up to the cloud at a fraction of the price of other security systems. With advanced battery technology and internal storage, Butterfleye continues to operate through Internet and power outages, making it the most reliable security option. Butterfleye believes in smart security solutions that are simple to set up, simple to use, and unobtrusive in our day-to-day lives.
For more information, visit http://www.getbutterfleye.com.