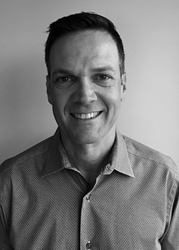 Michael's experience at a major retailer like Big Lots and his more than two decades' expertise in LP is exactly what we need as 3xLOGIC continues to add talent and sales resources, and we push deeper into our target markets. Matthew Kushner, 3xLOGIC CEO
Westminster, CO (PRWEB) August 16, 2017
3xLOGIC, Inc., a leading provider of integrated, intelligent security solutions today announced that Michael Poe has joined the company's management team. Poe will serve as the lead project manager for the companies growing VIGIL software line.
Michael comes to 3xLOGIC after more than 20 years in the LP field. Prior to 3xLOGIC, in addition to other positions, he worked most recently at Big Lots as a Project Manager in their LP department, in charge of new store and physical security projects. His career has brought him into contact with many aspects of the LP business including CCTV digital video, EAS, and retail analytics. In his new position, Poe is in charge of all 3xLOGIC VIGIL and VISIX product roll-outs. Recently, he has been dedicated to the smooth introduction of VIGIL 10, which now has a seamless integration to the company's highly-popular access control product line, infinias.
3xLOGIC, recognized as a Top 10 Brand by the country's 100 largest integrators, is a well-regarded pioneer in the rapidly growing Business Intelligence market. The company offers the industry's first integrated Security and Business Intelligence (BI) solution, VIGIL Trends. 3xLOGIC's is one of the largest Retail BI solutions providers, enabling more than 200 end users, totaling over 10,000 locations, to significantly cut shrink and improve productivity—making it a natural fit for someone with Poe's background and extensive LP experience.
"We've had solid people on our Product Management team, as proven by our explosive growth over the last several years, and now Michael is going to take us to the next level," said Matthew Kushner, 3xLOGIC CEO. "His experience at a major retailer like Big Lots and his more than two decades' expertise in LP is exactly what we need as 3xLOGIC continues to add talent and sales resources, and we push deeper into our target markets. Four years' running we've experienced Deloitte Fast 500 growth numbers, and we're not slowing down any time soon."
Amid the staff moves and managing the fast pace of growth, 3xLOGIC has had a very busy 2017 thus far, announcing an industry-leading integrated access and video solution, one that has received a significant boost from a promotion campaign with ADI; a collaboration with Microsoft on Cloud-based Big Data resources for the company's retail market; as well as upcoming feature launches.
About 3xLOGIC
3xLOGIC Inc. has been a leading innovator in server and cloud-based security technology for 15+ years. The company is recognized for providing easy-to-use surveillance and business intelligence solutions that seamlessly integrate video, access control, and disparate data such as ATM, Point-of-Sale, analytics, and more.
3xLOGIC's video surveillance solutions are engineered for ease of installation, scalability and affordability combined with a managed services portfolio that enables integrators to effectively evolve from dealers to high-value strategic partners. For more information about 3xLOGIC, please visit our website http://www.3xlogic.com.
For 3xLOGIC Media Queries:
Bruce J. Doneff
Public Relations
843.476.3022
doneff(at)verizon(dot)net
###