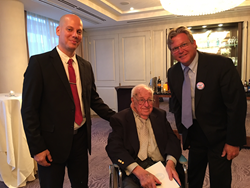 User1st is leading the digital revolution for social and economic opportunities for persons with disabilities. The digital ramp of today is the internet
Washington, D.C. (PRWEB) August 17, 2017
Amihai Miron, CEO and co-Founder of User1st, a web accessibility company, attended the 27th annual Americans with Disabilities Act (ADA) celebration held at the Dupont Circle Hotel on July 26th. The event, hosted by the American Association of People with Disabilities (AAPD), brings together top government officials and business leaders committed to advancing the opportunities for individuals with disabilities.
Miron was in D.C. advocating for greater digital accessibility awareness and implementation. AAPD President and CEO, Helena Berger headlined the event with a speech about the need for continued efforts to push enforcement of the rights of persons with disabilities. Notable attendees included Rep. Jim Langevin (D-RI), Edward Kennedy Jr., State Senator for the 12th District of Connecticut and nephew of President John Kennedy, and Dr. Jerome Kessler, renowned prosthetist and orthotist.
"Technology is the answer through which the disabled community can live independently and to their full potential. Learning what different disability thought leaders are accomplishing is truly encouraging," said Kessler.
"It was an honor and privilege to be among so many pioneers of the disability community. As champions of accessibility, User1st is leading the digital revolution for social and economic opportunities for persons with disabilities. The digital ramp of today is the internet," said Miron.
Visit User1st's website to learn more about innovative technology that enables websites to easily and efficiently become accessible to individuals with disabilities.