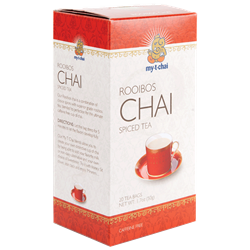 "We're excited about the direction My T Chai is headed in," said Chaimowitz. "We'll continue to develop our brand and spread the word about our wonderful and all-natural chai teas."
Boca Raton (PRWEB) August 18, 2017
My T Chai, a South African company that develops a line of high-quality all-natural rooibos chai teas, announced that its products are now available through a variety of high-profile online sites.
The company is pursuing an aggressive expansion strategy in the US market in response to high demand for its products. My T Chai products are now listed on major retail sites like StackedNutrition.com, Go4ItNutrition.com, RonnieColemanNutrition.com, Amazon.com, Jet.com and RevNutrition.com.
My T Chai started small in South Africa, with a family serving teas in the home to friends and relatives. The company seeks to offer healthy, high-quality alternatives to the big brands on the market.
"Each year we build our brand's presence throughout the world," said Michael Chaimowitz of My T Chai. "We strongly believe in the delicious flavors of our sustainable products that are completely natural and preservative free. As we continue to expand, we're able to bring My T Chai to a larger audience."
For thousands of years, chai tea has been a staple of the diets of people throughout Asia and Africa. Not much has changed with these teas that originated in ancient India and Siam, with today's recipes being close to those favored during ancient times. My T Chai's teas, for example, all feature ingredients that are grown locally in South Africa.
My T Chai's teas come in a range of flavors, but each includes only real, natural ingredients. The Vanilla Chai for example includes Rooibos tea, cinnamon bark, cardamom seed, ginger root, Vanilla pod, clove bud and black pepper seed. Luxurious pure Madagascan Vanilla makes this a nurturing cup of tea. It's recommended to warm the cup or pot well and let the bag steep for a full 5 minutes to let the flavors fully develop. This tea is best had with milk and a sweetener of choice, to bring out the best of the flavors.
Another tea offered by My T Chai is its Chocolate Chai, which blends classic antioxidant-rich rooibos with chai spices and cacao, giving you a delicious hint of decadence. Tea enthusiasts should let this bag steep for five minutes to allow the flavors to fully develop. It is particularly tasty with milk and a sweetener.
"We're excited about the direction My T Chai is headed in," said Chaimowitz. "We'll continue to develop our brand and spread the word about our wonderful and all-natural chai teas."
For more information about My T Chai, visit http://www.mytchai.com.