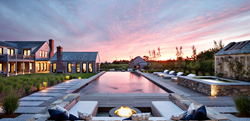 222 Eel Point Road offers a front row seat to Nantucket's famous West End sunsets and water access immediately across the way
Nantucket, MA (PRWEB) August 17, 2017
One of the things that makes Nantucket so special is its vast stretches of open land. Nearly half of the island is forever-protected, offering miles of lush landscape, sandy trails and pristine conservation land that is home to Osprey, songbirds and wild flowers. Since 1963, the Nantucket Conservation Foundation, a nonprofit organization, has strived to permanently protect the beautiful areas of this island. Thanks to their efforts over the years, the NCF is responsible for protecting over 9,000 acres of distinctive natural areas from development.
The homes that are enveloped by these open spaces are impeccable, none more so than 222 Eel Point Road in Dionis. From the immense views of Madaket Harbor and the surrounding 270+ acres of conservation land, to the coordinated design elements and masterful build, this property is exceptional in every way.
Designed by Andrew Kotchen of Workshop/APD and superbly executed by Reid Builders, this property is above and beyond your average high-end estate. Powered by solar and geothermal innovation and complimented by a relaxing, sculptural aesthetic, the home soothes the senses by way of must-have amenities and outstanding design. Few properties offer the balance of togetherness and quiet spaces like this contemporary 10-room home, studio and guesthouse with gracious outdoor living areas and infinity-edge pool.
The setting offers a front row seat to Nantucket's famous West End sunsets and with water access immediately across the way, it caters to both boaters and beachgoers alike.222 Eel Point Road is truly one-of-a-kind and a must see for anyone looking for the epitome of luxury.
About Jen Shalley, Principal Broker – Fisher Real Estate
After spending six years in the financial sector at Citigroup and Wachovia, Jen Shalley made the move to real estate where she has worked on an impressive array of real estate transactions exceeding $160 million. This includes two of the island's largest and most complex vacant land transfers, several commercial transactions and many single-family homes sales. Due to her extensive background in finance and market knowledge, Jen is well known for her "Nantucket Real Estate Report," an in-depth monthly market commentary and analysis that has been quoted by CNBC and The Boston Globe.
About Fisher Real Estate:
Founded in 2016, Fisher Real Estate is a forward-thinking Nantucket brokerage, founded on personal relationships. At Fisher Real Estate, we know that the island means something different to everyone, and we believe that there is a Nantucket home for everyone. More than just a piece of real estate, Nantucket is a lifestyle. For more information, please call (508) 228-4407, or visit http://fishernantucket.com The office is located at 21 Main Street, Nantucket, MA 02554.