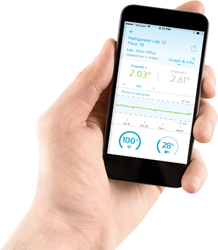 Vernon Hills, IL (PRWEB) August 17, 2017
Workers can now stay connected to their environment 24/7 when they choose Digi-Sense data loggers equipped with TraceableLIVE wireless technology. This technology is ideal for those who want to monitor critical environments and get alerts wherever they go. Plus, the included NIST-traceable calibration at a noncalibrated price provides value, accuracy and peace-of-mind.
TraceableLIVE securely connects to data via Wi-Fi on a smartphone, tablet or PC. The cloud-based interface requires no additional software, and connecting is simple and easy with a low-cost TraceableLIVE subscription. Once setup is complete, workers can view conditions in realtime; set alarm parameters; view data logging history; generate data reports in real time; get email, text and push notifications; and receive alerts for temperature alarm, connectivity interruption and low battery.
Digi-Sense data loggers equipped with TraceableLIVE provide a simple, efficient and reliable way to ensure critical samples are not compromised due to parameter variations. The data loggers are also equipped with NIST-Traceable calibration, which means reliable measurements right out of the box saving both time and money. The following four Digi-Sense data loggers have these features:

Digi-Sense Temperature/Humidity Data Loggers with a range of 32 to 131°F (0 to 55°C)
Digi-Sense Ultra-Low Temperature Data Loggers to measure down to –130°F (–90°C)
Digi-Sense Multiparameter Data Loggers to measure temperature, humidity, CO₂, or barometric pressure levels
Digi-Sense Data Logging Refrigerator/Freezer Thermometers with choice of four different temperature probe styles
For more information about Digi-Sense products equipped with TraceableLIVE wireless technology, go to ColeParmer.com.
Cole-Parmer has been a leading global manufacturer and distributor of fluid handling products, instrumentation, equipment, and supplies since 1955. Our portfolio including popular brand names such as Masterflex®, Ismatec®, Oakton®, Digi-Sense™, Environmental Express® and more, are sold around the globe through direct sales, multichannel marketing outlets, and a strong network of international dealers. Cole-Parmer also features an ISO-17025-accredited metrology lab for instrument calibration and repair. Cole-Parmer responds with excellence to customer needs, and offers application expertise and technical support. For more information, contact Cole-Parmer, 625 East Bunker Court, Vernon Hills, IL 60061. In the US, call 1-800-323-4340. International customers, call 1-847-549-7600.