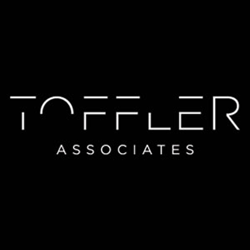 Reston, Virginia (PRWEB) August 16, 2017
Toffler Associates, a leading future-focused strategic advisory firm, announced today it has been named to the 36th annual Inc. 5000, the most prestigious list of the nation's fastest-growing private companies. Companies such as Microsoft, Dell, Domino's Pizza, Pandora, Timberland, LinkedIn, Yelp, Zillow and many other well-known names first gained national exposure as honorees of the Inc. 5000.
"We are honored to be named to the 2017 Inc. 5000," said Deborah Westphal, CEO of Toffler Associates. "Our growth reflects the unrelenting pace of change facing today's leaders and the importance of understanding a shifting global landscape. This recognition is a testament to the passion and commitment our associates have for guiding clients to future growth through transformation and disruption."
Founded 20 years ago by world-renowned futurists and authors Alvin and Heidi Toffler, the Virginia-based firm has seen increased demand in a time of continued cultural and political upheaval. Through their integrated and innovative approach to strategy consulting, Toffler Associates translates complex analysis into actionable solutions that help leaders chart a path of sustained growth in an uncertain future.
"The Inc. 5000 is the most persuasive evidence I know that the American Dream is still alive," says Inc. President and Editor-In-Chief Eric Schurenberg. "The founders and CEOs of the Inc. 5000 tell us they think determination, risk taking, and vision were the keys to their success, and I believe them."
The list ranks companies by overall revenue growth over a three-year period, and the 2017 Inc. 5000 is the most competitive crop in the list's history, with a staggering 481% three-year average growth rate. The 2017 Inc. 5000's aggregate revenue is $206 billion, and the companies on the list collectively generated 619,500 jobs over the past three years. The full 2017 Inc. 5000 list can be found at http://www.inc.com/inc5000.
Toffler Associates also was recognized earlier this year as one of Consulting magazine's "Seven Small Jewels," which celebrates firms that have exhibited compelling growth and delivered extraordinary results.
About Toffler Associates
Toffler Associates is a strategic advisory firm that helps businesses and public entities capitalize on opportunities, build agility, and mitigate risk in an uncertain future. Our unwavering commitment to being a catalyst for change is backed by a Future Proof® business consulting approach. We help global leaders ask the right questions, understand how future shifts impact current decisions, and position their organization to create future value. Learn more at tofflerassociates.com.