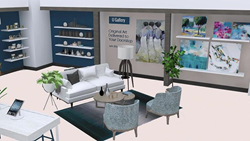 San Francisco, CA (PRWEB) August 16, 2017
UGallery, the curated online art gallery that delivers original art to your doorstep, is reinventing the way people buy art – again. In 2006, UGallery launched its online art marketplace to bypass intimidating galleries and connect emerging artists directly with collectors. Now, UGallery is reimagining the brick-and-mortar art gallery by presenting their online collection in a more welcoming and interactive space through their collaboration with The Lion'esque Group's IRL Chicago location.
"We are excited to have the opportunity to reach the Chicago market in the physical realm," said Stephen Tanenbaum, co-founder and CEO of UGallery. "It's one of our top markets and the IRL concept is well-suited towards our customer. We're reaching an audience that may have previously thought original art is reserved for the elite, and IRL is a great avenue to show the quality and accessibility of the UGallery collection."
Earlier this year, UGallery announced a partnership with Crate and Barrel to be the home furnishing retailer's exclusive original art provider. IRL furthers UGallery's mission of opening up access to original art, bringing the joys of owning original art to an even larger audience.
The pop-up store is located on the third floor of Water Tower Place in Chicago. Dubbed IRL – shorthand for "in real life" – the store is a collaboration between Chicago-based mall operator GGP and retail pop-up consultant The Lion'esque Group, and features a select group of digitally native brands.
"In today's world customers have higher expectations on what brands deliver to them and they want access to what's unique and special," said Melissa Gonzalez, CEO of The Lion'esque Group. "UGallery was a perfect fit for our launch curation because they understand this at the core of their brand DNA by delivering access to exclusive offerings."
The pop-up store is set to open with a soft launch on August 22.
ABOUT UGALLERY
UGallery is a curated online art gallery that delivers original art to your doorstep. Founded in 2006, UGallery passionately represents 500 top emerging artists from all around the world. With free shipping and free returns, UGallery makes it easier than ever to experience the joys of owning original art. Visit us at UGallery.com.