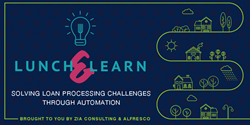 Boulder, CO (PRWEB) August 18, 2017
Zia Consulting, Inc., the leading provider of Enterprise Content Management (ECM) and Intelligent Document Capture business solutions, will host two lunchtime events entitled "Solving Loan Processing Challenges Through Automation." These complimentary events, co-sponsored by Alfresco, will take place in Los Angeles on September 12, 2017 and Chicago on September 28, 2017. Each will discuss ways to cut costs while providing an exceptional employee and customer experience.
As regulations and expenses increase with loan processing, the need for a fully automated solution is now more important than ever. Utilizing even a partially manual process opens companies up to errors, longer processing times, security issues, and unpredictable costs. Improving the customer experience isn't just about investing in apps and systems accessed directly by the consumer. While these apps may look pretty, the customer's actual experience is likely not improved because internal processes are still fragmented and inefficient.
By implementing a mortgage loan automation solution that focuses on data extraction, classification, and workflow, many loan providers and servicers can cut processing expenses and risk by more than 90% while providing an exceptional employee and customer experience.
Join mortgage industry expert, Stan Pachura, for a lunch and learn with demonstrations and discussions of solutions that accelerate the loan process. By utilizing best-of-breed technologies, companies can vastly improve the internal and external experience while addressing many issues including:
Reducing costs in a high-cost mortgage environment
Reducing errors that can cause compliance failures, be damaging to the company's reputation, and be very costly
Enhancing the borrower experience and satisfaction
Addressing the challenges presented by all the forms in the mortgage process
Achieving compliance in a constantly changing world
Whether a mortgage bank, wholesale bank, or service provider, the need to automate document processing is clear. These lunch and learn events will provide information on navigating the rapidly changing landscape with expertise, examples, and customer success stories.
September 12, 2017
11:30am–1:30pm PT
The Standard Hotel
Los Angeles, CA
Registration: https://la-mortgage-event.eventbrite.com
September 28, 2017
11:30AM–1:30PM CT
Sweetwater Tavern & Grille
Chicago, IL
Registration: https://chicago-mortgage-event.eventbrite.com
###
Zia Consulting delivers Enterprise Content Management (ECM) and Intelligent Document Capture solutions addressing the needs of enterprises to better manage, process, and secure documents. Offerings tackle key issues of ECM user adoption and cost reduction through document automation and a desire for ECM and capture modernization including the cloud. Our vertical accelerators for insurance, mortgage, accounts payable, and more are utilized by some of the world's largest enterprises to deliver rapid ROI and enhanced governance.