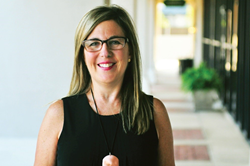 Esther's relentless focus on finding the right solutions for her clients has earned her the respect of her peers and the trust of her clients
Dallas, TX (PRWEB) August 17, 2017
When a person is faced with one of life's most difficult situations, Esther R. Donald enters with compassion and strength. Donald has determinedly pushed for the right solutions for her clients combining her proven legal expertise and respected credentials with strong interpersonal skills. Now, she enters a new chapter in her legal career rising to Partner at GoransonBain, a leading Dallas-based family law firm.
"Esther's relentless focus on finding the right solutions for her clients has earned her the respect of her peers and the trust of her clients," said Curtis W. Harrison II, Managing Partner. "Her strong sense of integrity and leadership skills will be an invaluable asset in guiding her in her new role as a Partner in the firm," he added.
Donald began her career as a commercial litigator in a well-respected Dallas law firm. She was drawn to the problem-solving aspect of the practice working with some of the best lawyers in town. At the same time, she was yearning for more meaning and purpose in her life's work. She found her true passion when joining a small family law firm in Plano where she could positively impact personal lives.
In 2014, the opportunity to join GoransonBain opened the door to a larger family law firm where the depth of experience could provide even better solutions for her clients.
"As opposing counsel, I was always impressed with the integrity of the GoransonBain lawyers and their constructive, intelligent approach to family law," she said. Now, as a Partner in the firm, she plans to build on the firm's strong culture, positive work environment and reputation for honesty and exceptional client value.
Donald is a graduate of the University of Texas School of Law where she was Associate Editor of the Texas Law Review. She earned her Bachelor of Arts with Honors from the University of Texas at Austin. She was included in the Best Lawyers in America in the field of Family in 2017 and selected to the Texas Super Lawyers list in 2016.
She is a member of Temple Emanu-El, a long-time volunteer at her children's school and Jewish Family Service.
About GoransonBain, PLCC
GoransonBain is a Texas family law firm founded in 1987. Since its inception, GoransonBain has fostered a constructive atmosphere and strategic approach to help clients controls costs, minimize the disruption to their daily lives and achieve the best possible outcome. The firm's team of attorneys, including three former family court judges, offers clients comprehensive experience and perspectives to work towards an efficient resolution in complex situations. Services encompass virtually every facet of family law, including divorce, asset identification and valuation, complex property matters, collaborative law, mediation, premarital and postmarital agreements, child custody and visitation, property division, child support, adoption, paternity, and same-sex legal issues. For the past five years, U.S. News & World Report named GoransonBain a Best Law Firm in its U.S. News - Best Lawyers® for family law and family law mediation, an achievement that involved a rigorous independent evaluation process.
In 2016, GoransonBain was named a Top Workplace in Dallas by the Dallas Morning News. Beyond the top 5 ranking among small 100 businesses in the Dallas area, the firm was also recognized for best work/life flexibility.
The firm maintains three Texas offices in Dallas, Plano and Austin.