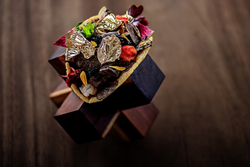 a $25K taco includes such premium ingredients as langoustine, Kobe beef, Almas Beluga caviar and black truffle brie cheese topped with an exotic salsa comprised of dried Morita chili peppers, Ley.925 ultra-premium añejo tequila and civet coffee
Puerto Vallarta, Mexico (PRWEB) August 16, 2017
This fall, traveling foodies delight in celebration of National Taco Day (Oct 4) at Mexico's "Beyond All Inclusive, Beyond All Compare" Velas Resorts in Los Cabos, Riviera Maya, Riviera Nayarit and Puerto Vallarta with DIY in-suite taco bars, taco and tequila pairings and the world's most expensive taco.
Available at all five Velas Resorts, the insuite DIY taco bar fulfills taco cravings 24-hrs a day. A sampling of fillings range from al pastor with roasted pineapple, Poblano peppers with corn, and traditional Cochinita Pibil to fried Baja fish, octopus, and Chorizo with potatoes. To accompany the tacos, an assortment of sauces, varying in spiciness, like Xni-Pec and salsa verde and additional toppings like traditional guacamole and Melted Oaxaca cheese, are served. An assortment of tortillas are also offered.
At Grand Velas Riviera Maya, skillfully selected taco and tequila pairings combine the finest quality fish, shrimp and rib eye tacos with top-shelf tequila. Fish tacos with a cilantro emulsion are paired with Don Julio 70, a crystalline tequila with toasted oak notes followed by a clean and warm ending. Shrimp tacos, made with chile guajillo tortilla, are accompanied by 1800 Reposado tequila, which gives caramel with orange peels notes after six months in barrels of French and American oak. Rib Eye tacos are savored with anejo Tres Generaciones tequila, bringing out the quality and unique characteristics of the ingredients.
At the new Grand Velas Los Cabos, a $25K taco includes such premium ingredients as langoustine, Kobe beef, Almas Beluga caviar and black truffle brie cheese topped with an exotic salsa comprised of dried Morita chili peppers, Ley.925 ultra-premium añejo tequila and civet coffee tops the taco which is served on a gold flake-infused corn tortilla. The World's Most Expensive Taco was created by the resort's Executive Chef Juan Licerio Alcala who originates from Durango, Mexico.
Rates start at $161 at Velas Vallarta, $273 at Casa Velas, $319 at Grand Velas Riviera Nayarit, $427 at Grand Velas Riviera Maya and $548 USD at Grand Velas Los Cabos. All rates are per person, per night, based on double occupancy. All-inclusive rates at Velas Resorts include luxury suite accommodations, a la carte gourmet meals at a variety of specialty restaurants, premium branded beverages, 24-hour in-suite service, fitness center, taxes, gratuity and more. For more information on Velas Resorts, please call 1-888-407-4869, email reservations(at)velasresorts(dot)com or visit http://www.velasresorts.com.
About Velas Resorts:
Offering unparalleled all-inclusive experiences, Velas Resorts in Riviera Maya, Puerto Vallarta, Riviera Nayarit and Los Cabos have earned more than 43 AAA Diamonds, including the prestigious Five Diamond Award. Other esteemed international awards for their services and facilities include Virtuoso's "Best Spa," Condé Nast Johansens' "Most Excellent Resort" and "Most Excellent Spa Hotel" and the American Academy of Hospitality Sciences' 5 Star Diamond Award. Properties include Casa Velas, a boutique adults-only hotel and ocean club located on the Marina Vallarta Golf Course, and Velas Vallarta, a family-friendly all suites resort and spa located on Banderas Bay, both in Puerto Vallarta; the AAA Five Diamond Grand Velas Riviera Nayarit and Grand Velas Riviera Maya, located five minutes from Playa del Carmen, offering the most sophisticated, ultra luxury all-inclusive resort experience in the Caribbean with jungle and beach settings. The new Grand Velas Los Cabos on Mexico's Baja Peninsula offers the next generation of all-inclusive amenities and facilities with dramatic ocean views and unique spaces infusing every area of the resort. Velas Resorts feature spacious accommodations, spas, a unique culinary experience at a selection of restaurants, 24-hour in suite service, fitness centers, personal concierge service, state of the art conference centers, extensive family programs, fully stocked mini bar and more. Eduardo Vela Ruiz, owner, founder and president of Velas Resorts operate Velas Resorts with brother Juan Vela by his side, vice president of Velas Resorts. For more information on Velas Resorts, please call 1-888-407-4869, email reservations(at)velasresorts(dot)com or visit http://www.velasresorts.com.