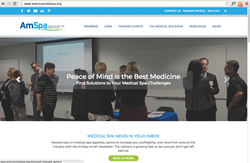 Chicago, IL (PRWEB) August 17, 2017
The American Med Spa Association (AmSpa) launched a new, improved, and mobile-responsive americanmedspa.org on August 1, 2017. The site's new look is crafted to make finding legal compliance resources faster and easier from both desktops and mobile devices.
AmSpa's proprietary members-only medical aesthetic legal summaries are now streamlined and more user-friendly, making compliance simpler than it's ever been before. Throughout the course of 2017, AmSpa has been expanding its summaries to include answers to more than 60 medical spa and medical aesthetic regulatory questions. Currently expanded summaries are in place for: Texas, California, Illinois, Florida, New York, New Jersey, Ohio, Massachusetts, Pennsylvania, Wisconsin, Arizona, and South Dakota with the rest of the country on pace to be covered by the end of 2017.
Along with the redesign, AmSpa will begin regularly featuring original content outlining various legal and business issues relating to medical aesthetic facilities and medical spas, such as "Three Things California Med Spas Need to Know" and "Top Medical Spa Legal Issues." Attorneys Alex Thiersch and Renee Coover will also provide video updates on various legal topics, such as medical spa ownership in Massachusetts, or the recent lawsuit against a family practice physician in Omaha. This will all be in addition to easy-to-access links and synopses of news stories from across the non-invasive medical aesthetic industry.
AmSpa's Medical Spa Job Board is still the industry's best place to find a great team member or build a career in medical aesthetics, and AmSpa's easier-to-navigate store has tools to keep medical aesthetics practices profitable and compliant.
Visit americanmedspa.org to take a look and learn more.
About the American Med Spa Association: The American Med Spa Association (AmSpa) provides business and legal resources to medical spas and aesthetic practices across the country. AmSpa's events—including Medical Spa Boot Camps and The Medical Spa Show—provide business and legal best-practices to anyone entering the medical spa space or looking to improve their existing business. AmSpa members receive access to legal summaries of the laws governing medical spas in their state, access to an exclusive medical spa insurance program, and many other benefits. 312-981-0993, info@americanmedspa.org