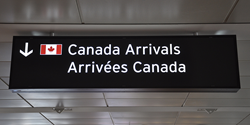 We're extremely pleased to provide service to our Canadian customers that meets their research needs and secures their data in accordance with Canadian laws. - Christian Vanek, CEO of SurveyGizmo
Boulder, Colorado (PRWEB) August 17, 2017
SurveyGizmo, an enterprise-grade SaaS survey platform and leading provider of research tools, is proud to announce that it now offers service that is fully compliant with Canadian data and privacy laws to the Canadian market.
Utilizing Amazon's new data center in Montreal, SurveyGizmo enables Canadian customers to create accounts with SurveyGizmo Canada in order to gain business intelligence, detailed analytics and market research insights. The move represents a major step in SurveyGizmo's ongoing international expansion, which will continue with APAC in the near future.
"We're extremely pleased to provide service to our Canadian customers that meets their research needs and secures their data in accordance with Canadian laws," says Christian Vanek, CEO and Co-Founder of SurveyGizmo. "It's our mission to serve every customer whenever, wherever and however they need our help."
Any customers who currently have their data stored within the U.S. can have it transferred to Canadian servers through SurveyGizmo's professional data migration service. "We want to make sure that everyone has the opportunity to choose the data storage location that is right for them," said Vanek.
Canadian users will experience a boost in processing speed and survey load times due to the new data center's proximity, in addition to the peace of mind that comes with knowing their data is safely secured within Canadian borders.
About SurveyGizmo
Founded in 2006, SurveyGizmo is a powerful, survey and data insights platform that empowers business professionals to make informed decisions. Through high-powered application software, it offers user-friendly data collection tools for understanding your customers, markets, and employees in real time and communicating this information across an organization. It provides data insights in over 205 countries, with 50,000 new surveys created and 7.5 million responses collected every week, for customers like Fedex, Microsoft, Bloomberg Television and GE.