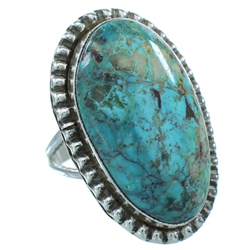 We wanted to educate people about the different types of turquoise and how to spot a fake.
(PRWEB) August 20, 2017
Turquoise jewelry has become popular among celebrities and fashion divas, quickly making its way to the general public. From Taylor Swift wearing turquoise earrings to Beyoncé adorning a brilliant turquoise bracelet, this is one fashion trend that is making waves in the mainstream of the fashion industry.
One company that is well ahead of the curb, NativeAmericanJewelry.com a seller of hand-made turquoise and Native American jewelry is here to spread the word that with an influx in popularity, counterfeiters are becoming more and more of a problem.
The spokesman of the company, Steven Onida gave some words on the subject as well. "You see this all the time, something gains popularity, and people look to exploit that and turn a profit. Fake turquoise coming from China is destroying the industry. When people get fake turquoise and see its inferiority, they are less likely to buy it again, even from a respected dealer. This is why we wanted to educate people about the different types of turquoise and how to spot a fake."
How to Spot Real Turquoise from Fake
When shopping for authentic turquoise, there are five categories that retailers use in the market that are acceptable to use. These are natural, stabilized, reconstituted, dyed-stone, and Imitation. While some of these are not really turquoise, some retailers sell them all to give people options on prices, "which is fine," says Onida. The problem stems from people that sell fake turquoise and market it as real.
Different Types of Turquoise
Natural turquoise is untreated with the same properties it had when it came from the mine where it was found. Almost no one sells this type of turquoise because it is brittle and will break with the slightest impact, making it an impossible fashion statement for everyday wear.
Stabilized turquoise has been treated to make it more durable. Stabilized turquoise is referred to as "Genuine Turquoise" by industry standards. This is the type sold by most respected retailers, like Tiffany's, Kay, and NativeAmericanJewelry.com. This is what people want when they look for turquoise jewelry.
Reconstituted turquoise is not "genuine" turquoise. Essentially, this type is made of ground turquoise and mixed with a variety of other materials and reformed into one smooth stone. This is considered a cheaper alternative for those looking to rock the turquoise style without spending the money. In actuality, they often contain small amounts of real turquoise.
Dyed-stones are not turquoise at all. As the name implies, this process involves dying lesser stones to look like turquoise by treating them with chemicals.
Some key things that Onida and the team urge people to look for are the terms listed above, asking what type of turquoise (Sleeping Beauty, #8, Kingman, etc.) to indicate what mine they were pulled from.
People should also research the store and see if they have a respectable history of clients that have done business with them in the past.
Genuine and natural turquoise jewelry also has a distinct look and feel. For example, they both display a matrix (vein-like patterns that show how the water carried the minerals through the stone during its formation.)
NativeAmericanJewelry.com hopes to stop the buying and selling of fake turquoise that has flooded the market over the past few years and educate the public on this beautiful art form and the real artists that make their living crafting these stunning pieces.
For more information or to buy genuine turquoise jewelry, go to NativeAmericanJewelry.com.