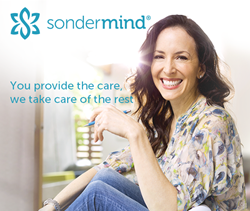 Denver, Colorado (PRWEB) August 16, 2017
Finding a mental health professional can be challenging. Directories often have wrong numbers, list therapists who are not taking new clients, or don't include those with practices that are nearby.
On the flip side, the isolation of running a private practice, the long hours of paperwork and high cost of office space all take a toll on a therapist's morale. It's no wonder industry estimates show that 1 out of every 5 leaves the profession every year.
SonderMind, a Colorado company, will be opening a new location in the south metro Denver area of Centennial, Colorado.. This new location will support an additional 45 professionals.
In addition to increasing accessibility for consumers, SonderMind also supports mental health professionals in a unique way, offering an online community and back-office business solutions.
"We went to school to become great therapists, not great business managers," said Chief Clinical Officer & Co-Founder Sean Boyd, MA, LPC. "I helped developed the SonderMind concept while I was in private practice, to address the issues that keep mental health professionals from doing the work they love, which is helping people improve their emotional well-being."
In addition to wonderfully equipped office spaces, SonderMind provides:
● FREE ONLINE DATABASE that quickly and easily connects people with trained therapists who are accepting new clients in their area.
● UNIQUE BACK-OFFICE SOLUTIONS to help therapists offer online appointment scheduling, office space rental by the hour and services to manage billing, paperwork and insurance filings.
● SONDERMIND ONLINE COMMUNITY giving therapists across the country an easy way to collaborate with colleagues about new treatments, techniques and research, client referrals, and to find therapist mentors or mentees for supervised clinical practice.
SonderMind's mission is to enable therapists to focus on the work they love - helping clients – by simplifying the daunting business processes and tasks they normally face.