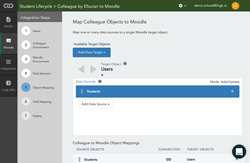 LingkSync provides our customers a new and exciting way to support learners and to meet their institution's objectives by synchronizing Moodle LMS and Colleague SIS data. - Ron Olsen, CEO, Remote-Learner
Danville, CA (PRWEB) August 17, 2017
Lingk Inc. today announced LingkSync for Moodle and Colleague by Ellucian. Lingk has partnered with Remote-Learner, a leading provider of open source Moodle solutions, to empower institutions and businesses to connect with their students, customers, partners and employees in entirely new ways. Lingk is the provider of wizard-based LingkSync integration apps for fast and deep lifecycle integrations. The LingkSync app enables data from the Colleague student management system to be easily synchronized with the Moodle learning platform.
Built on the Lingk Platform, LingkSync for Moodle and Colleague will be available in the LingkExchange marketplace which offers access to a wide array of productized education integrations. Each integration in the LingkExchange provides a fast wizard-based experience to complete student lifecycle integrations.
LingkSync for Moodle® and Colleague® Key Features
Moodle Admins
Moodle Admins using the LingkSync app can easily add Colleague SIS (Student Information System) data into their Moodle implementation to power new analytic insights, dashboards, reports, workflow automations and notifications supporting user requests for more student lifecycle data. Current integration approaches are brittle, perform slowly, and do not provide deep access to SIS data for LMS (Learning Management System) analytics. The LingkSync app provides a unique first-of-its-kind wizard-based and self-service configuration experience for Moodle Admins to quickly gain access to an expansive amount of Student Lifecycle data without the need for costly, time-consuming and complex integration projects. Data syncing can be run manually or automatically at scheduled intervals for increased freshness.
Moodle End Users
Moodle End Users will have immediate access to an extensive amount of SIS data fields from their Moodle implementation to allow them to build new and enhanced views, dashboards and reports to gain powerful insights. With access to more student lifecycle data, users can create new use cases that help to automate and transform their work.
Comments on the News

"Lingk is very excited to partner with Remote-Learner on Moodle implementations to provide easy access to high value student lifecycle data for users to gain better insights with analytics, dashboards and reports - data needed for supporting learners throughout their education journey," said Paul Roberge, President and CEO, Lingk Inc.
"Remote-Learner is extending Moodle LMS implementations for personalized learning and analytics to help institutions transform and deliver on student engagement objectives which require deeper access to student lifecycle data," said Ron Olsen, CEO, Remote-Learner. "LingkSync provides our customers a new and exciting way to support learners and to meet their institution's objectives by synchronizing Moodle LMS and Colleague SIS data."
"LingkSync and the Lingk Platform represent an exciting new modern integration approach for Colleague ERP institutions to enable Moodle LMS administrators fast and deep access to Colleague data," said Maurice Simpkins, President, A.M. Simpkins & Associates. "The LingkSync approach for accessing Colleague source data provides an out-of-the-box API integration technique that supports both SQL Server and Unidata enabling extremely quick implementations."
About Lingk Inc.
Lingk provides productized integration apps or LingkSync™ to enable easy syncing of learner lifecycle data stored in core enterprise systems like ERP, SIS, CRM and LMS for powering analytics dashboards and learner lifecycle use cases including: recruitment, admissions, enrollment, academic advisement and retention, career advisement, alumni relations and workforce development.
Lingk technology partners integrate with Lingk to accelerate their implementations and time to value, expand customer use cases and the overall adoption of their platform while eliminating the need for costly and time-consuming services engagements. Technology partners can now centrally manage and monitor 100s and 1000s of their customer integrations in a common way using account management and customer operations dashboards with the Lingk Platform service.
Lingk consulting partners provide standards-based education data model consulting to technology partners seeking to design with a comprehensive data model to meet broader education market use cases (P-20 and workforce development). Lingk and its consulting partners have proven expertise implementing standards, including Common Education Data Standards (CEDS), aligned data models for both large and small education institutions and technology vendors.
Learn more at http://www.lingk.io
About Remote-Learner
Since 2002, Remote-Learner has focused on open source technologies as the foundation of transformative learning environments. Expanding from its origins as a hosting and support provider, Remote-Learner today also serves its clients with expertise that includes e-Learning solution development, instructional design, system integrations and program administration services. Across North America, Remote-Learner's clients include corporations, K-12 schools and districts, two-year and four-year colleges and universities, non-profit organizations and government agencies who each are achieving their unique strategic objectives by making a positive impact on their users, their communities, and the world by unlocking the potential of technology to improve lives through learning.
Lingk, LingkSync, Lingk Platform and others are among the trademarks of Lingk, Inc.  Moodle is a registered trademark of Moodle Pty, Ltd.  Colleague by Ellucian is a registered trademark of Ellucian Company L.P.
# # #