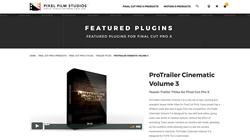 This is the third volume in the ProTrailer Cinematic series and it brings you 30 new presets.
Aliso Viejo, CA (PRWEB) August 17, 2017
ProTrailer Cinematic Volume 3 is a new set of epic, exciting and energetic teaser trailer titles for Final Cut Pro X. Every preset has a different style that sets it apart from the competition. ProTrailer Cinematic Volume 3 is designed for any skill level editor, giving users new levels of creative options, without the effort of animating. Every preset contains an intuitive edit mode, speeding up the workflow while allowing users to see the camera movements in real-time. ProTrailer Cinematic Volume 3 is designed for FCPX 10.3.2 and newer.
ProTrailer Cinematic Volume 3 includes 30 epic highly-detailed cinematic presets. Every preset places the user in the driver seat, allowing unbelievable amounts of control. Every preset in ProTrailer Cinematic Volume 3 contains fully editable 3d text, keyframe-less animations, color controls, composite effects and so much more.
ProTrailer Cinematic Volume 3 includes an intuitive edit mode, which helps FCPX users to quickly make changes on the fly. FCPX users using the camera controls can set a starting point, mid-point, and end-point with rotation controls, enhancing the edge-of-your seat action. Each preset contains keyframe-less intro and exit text animations, giving users the ability to animate by word, letter, or all at once.
ProTrailer Cinematic Volume 3 is designed with new-levels of realism in mind. Each preset includes Camera-Lens refractions, environment composites, lighting, lens flares and more. FCPX users can fully immerse their audience in new worlds with every preset. ProTrailer Cinematic Volume 3 also gives users the familiar controls of past volumes, but with new and easier processes put in place, saving the user valuable time.
ProTrailer Cinematic Volume 3 is a set of FCPX Generators. FCPX users simply select the preset the want to use, and customize it using the intuitive controls. Final Cut users can find all of the controls in the inspector window when the generator is selected. This plugin utilizes all of the new FCPX 3d text controls, allowing the user to fully edit each title. ProTrailer Cinematic Volume 3 is easy to use, and built with any skill level FCPX user in mind, from novice to expert.
Established in 2006, Aliso Viejo, California-based Pixel Film Studios is an innovative developer of visual effects tools for the post-production and broadcast community. Their products are integrated with popular non-linear editing and compositing products from Apple FCPX. Apple, the Apple logo, Mac OS X, and Macintosh are registered trademarks of Apple Inc. in the U.S. and/or other countries. All other trademarks and trade names are the property of their respective owners.