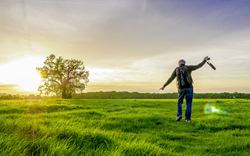 Every day, we see millions of beautiful images captured by photographers of all skill levels. Many of these photos are captured, shared and then forgotten
(PRWEB) August 17, 2017
On August 19th, World Photo Day is calling photographers of all skill levels to share their best photographs of 2017 as part of a global celebration.
"Every day, we see millions of beautiful images captured by photographers of all skill levels. Many of these photos are captured, shared and then forgotten," said Australian founder and photographer, Korske Ara.
"At World Photo Day, we're turning these photos into beautiful photo books with the proceeds being distributed to organisations and individuals that are creating positive impact in the world."
To participate, register at worldphotoday.com and share your best photo this August to help inspire a better world through photography.
You can also support the project by pre-ordering a photo book (Link: worldphotoday.com/photobook) or buying merchandise from our collection (Link: worldphotoday.com/shop)
Businesses, community groups and individuals that are running an event in celebration of World Photo Day can add their events at worldphotoday.com.
"Our dream of inspiring a better world through photography is driven by a global community of passionate people. Photography is just the catalyst," Mr Ara said.
About World Photo Day
In 2016, World Photo Day reached a global audience of over 500 million people. Focused on developing events that inspire local communities in a global celebration. With a pilot event organised in Canberra, Australia, the team at World Photo Day are gearing up for a multi city event series in 2018.
The story of the world's largest photography celebration started in 2009 as an idea in the bedroom of Korske Ara, a young photographer in Canberra, Australia. Passionate about connecting people, telling their stories and inspiring positive change in the world, Korske started on an epic journey to live out his passions, going as far as selling his own camera gear to fund the project.
Learn more at worldphotoday.com/about.