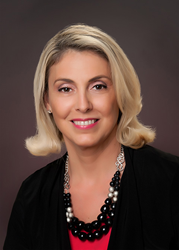 Silver Spring, Md. (PRWEB) August 17, 2017
The Security Industry Association (SIA) today announced Rose M. Littlejohn, Managing Director, Security, Meeting and Events Services and U.S. Travel, PwC (Pricewaterhouse Coopers), as a keynote presenter for Securing New Ground (SNG) 2017, the security industry's premier executive conference, in New York City on Oct. 26-27.
"We are honored to welcome Rose Littlejohn to Securing New Ground, where attendees will gain incredible insight from an influential security leader," said SIA CEO Don Erickson. "With her global security responsibilities, Rose's perspective will encourage executives in the audience to think differently about certain aspects of their business strategy—and drive unique discussions throughout the conference."
In her role at PwC, Littlejohn is responsible for crisis management, background screening, physical security, information security, travel security, forensic investigations and security awareness programs. Her keynote presentation will provide valuable insights on the security requirements of a global advisory firm—vital intelligence for strategic planning by the C-suite of security manufacturers and integrators attending SNG 2017.
SNG is the only conference in the security industry that identifies critical trends and provides opportunities for thought leadership among the C-suites of security companies. As in years past, CEOs and other business leaders will gather for two days of executive strategizing and networking. This year, SIA hosts SNG at Edison Ballroom, 204 W. 47th St. (b/t Broadway and 8th Ave.), New York, N.Y. 10036.
Register for SNG at http://www.securingnewground.com.
Qualified reporters are eligible for complimentary registration for SNG 2017. For more information, contact Mickey McCarter, SIA communications manager, at mmccarter(at)securityindustry(dot)org or 301-804-4704.
About the Security Industry Association
The Security Industry Association (SIA) (http://www.securityindustry.org) is the leading trade association for global security solution providers, with more than 750 innovative member companies representing thousands of security leaders and experts who shape the future of the security industry. SIA protects and advances its members' interests by advocating pro-industry policies and legislation at the federal and state levels; creating open industry standards that enable integration; advancing industry professionalism through education and training; opening global market opportunities; and collaboration with other like-minded organizations. As a proud sponsor of ISC Events expos and conferences, SIA ensures its members have access to top-level buyers and influencers, as well as unparalleled learning and network opportunities. SIA also enhances the position of its members in the security marketplace through SIA Government Summit, which brings together private industry with government decision makers, and Securing New Ground®, the security industry's top executive conference for peer-to-peer networking.