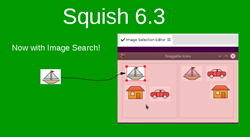 Hamburg, Germany (PRWEB) August 17, 2017
Squish GUI Tester is the market leading functional test automation tool for cross-platform and cross-device GUI testing on desktop, embedded, mobile platforms, and web browsers, used in more than 3,000 QA departments around the world!
Image-based Object Search
Squish 6.3 introduces a new feature for identifying objects in your GUI. Now, instead of using an object name or a set of properties, you can provide an image. Squish will then search your GUI for that image, and allow you to interact with whatever control is there. This feature is especially useful in situations where you have:

Custom controls that Squish has no wrappers for
Controls from another toolkit in a multi-toolkit AUT
2D/3D Graphics plots/images
Comparison of Text and XML files
Squish 6.3 introduces two new functions to the Squish API: test.compareTextFiles() and test.compareXMLFiles(), which compare the contents of two text and XML files, respectively. Instead of a plain, byte-by-byte comparison, possible differences are reported for individual lines and elements. Several configuration options exist to allow for acceptable differences in content and formatting.
In addition to that, Squish 6.3 comes with a range of smaller new features and bugfixes. See the Squish 6.3 release notes for a detailed list of all changes.
Get your free and fully functional Squish GUI Tester evaluation copy today at https://www.froglogic.com/squish/free-trial/
Join froglogic CTO Harri Porten for a live demo of Squish 6.3! We will host two webinars presenting the new features of Squish 6.3.
Asia & Europe: Register for Sept. 5th: https://goo.gl/fZAVas
Americas: Register for Sept. 12th: https://goo.gl/k2wBnM
About froglogic
froglogic GmbH is a software company based in Hamburg, Germany with additional offices in the USA with over 3,000 customers world-wide. froglogic is well known for its automated testing suite Squish with its flagship product Squish GUI Tester, the market-leading automated testing tool for GUI applications based on Qt, Java AWT/Swing, SWT/RCP and JavaFX, Mac OS X Carbon/Cocoa, Windows MFC, .NET and WPF, iOS Cocoa Touch, Android and for HTML/Ajax/Flex-based web applications running in a variety of web browsers. In addition, froglogic offers the professional, cross-platform C, C++, C# and Tcl code analysis tool Coco Code Coverage. Find out more about us and our products at https://www.froglogic.com.