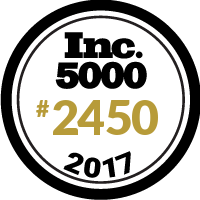 Asheville, NC (PRWEB) August 17, 2017
Aeroflow Healthcare today announced its placement on the 2017 Inc. 5000, a prestigious award recognizing America's fastest growing private companies. Inc. magazine ranked Aeroflow Healthcare #2450 on its annual list, showcasing a record-breaking yearly sales growth rate of 146 percent.
The Inc. 5000 represents the most comprehensive study of American entrepreneurial enterprises based on percent growth in revenue over a three-year period. The list has recognized the nation's most successful private companies since 1982 and is considered the hallmark of success for private businesses. This is the third consecutive year that Aeroflow has ranked on the Inc. 5000 list, coming in at #3089 in 2015 and #3100 in 2016.
"The Aeroflow team goes above and beyond to provide the best customer service in the industry for our patients. No matter how quickly we grow, our goal remains the same: to be there for our patients no matter what," said Casey Hite, CEO of Aeroflow Healthcare. "I'm proud to say that we have kept this goal a priority and will continue to do so."
Companies on the list, on average, have grown sixfold since 2013. Only one in five companies makes the list three times in a row. Aeroflow Healthcare is once again on track to have a record year in sales, achieving over $73.6 million in 2016, and with territories and employee counts continuing a steady upward growth trend. As one of the few medical equipment providers to make the list three years in a row, the company continues to add more jobs and expand its locations to support the growing number of patients the company is honored to serve.
"It's an honor to be named as one of Inc. Magazine's fastest growing companies for the third year in a row. This is a direct reflection of the hard work our team has put forth over the last few years and we're excited to recognize them for their incredible efforts," said Katie Combs, Chief Culture Officer at Aeroflow Healthcare.
Aeroflow was founded in 2001 as an oxygen supplier, and in the years since has expanded their product selection, workforce, and sales territory to become one of the top providers of medical equipment in the nation.
About Aeroflow
Aeroflow Healthcare is recognized as the premier provider of durable medical equipment (DME) and service in the Southeast. The company is an accredited Medicare and Medicaid provider and accepts most commercial insurances. For more information, visit aeroflowinc.com, or call (888)-345-1780.