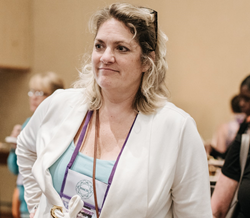 My plan from the beginning was to revolutionize healthcare simulation education.
Wilmington, Delaware (PRWEB) August 17, 2017
When Amy Cowperthwait left the emergency room after 28 years as a bedside, well actually, stretcher side nurse, she took with her a dream to make nursing education more relevant and prepare aspiring nurses to address both the art and science of healthcare. Specifically, ensuring communication skills were integrated into healthcare provider education.
"The human element was missing. Students were learning procedures on plastic models but their education never included the challenges of communicating with live patients," said Cowperthwait, Avkin Founder and CEO. "That lack of patient-centered feedback and cognitive empathy development can lead quickly to nursing burnout, patient complications and costly errors."
Precision and Empathy Boost Healing and the Bottom Line
Medical errors are the third leading cause of death in the U.S., responsible for at least 250,000 lives every year. Those errors cost the healthcare industry $20.8 billion per year. Precision is essential when performing a medical procedure. So is empathy.
Research shows that empathetic, thoughtful care can actually improve patient outcomes. A 2012 study of primary care physicians and their diabetic patients found that of physicians with different levels of empathy, the most empathetic had more patients with fewer complications.
Cowperthwait invented sensor-enabled, high fidelity, wearable 'anatomic body-part' technology for healthcare simulation education. Human 'patients' wearing the devices provide feedback through haptic sensations that the 'patient' can act out in real-time for the healthcare learner. This in turn enhances a learner's ability to empathize with a patient's discomfort, thoughts and feelings and adjust treatment to make their care more effective and reduce suffering for the patient.
Medical Simulation Devices Can Reduce Medical Errors, Improve Care and Cut Costs
Bottom line results? With medical simulation training, procedures are performed more accurately, with less chance of mistakes or infection, accelerated healing and shorter hospital stays.
"Wearable technologies are an important tool that providers can use to improve healthcare education. And better-educated caregivers make fewer errors, which improves patient outcomes, mitigates risk and reduces costs," said Cowperthwait.
Avkin is the leader in wearable simulation technology. Our products and services are used in hospitals, nursing schools, and simulation centers nationally and around the world. Learn more about us.