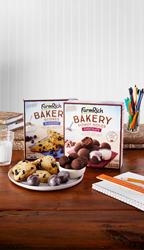 ST. SIMONS ISLAND, Ga. (PRWEB) August 17, 2017
Parents tend to loosen the reins a bit in summer, but as a new school year starts to crank up, strong routines are the order of the day! Here are five easy ways – an "A-PLUS" approach – to make the school year run just a little more smoothly, courtesy of Farm Rich.
1. A – Always Have Breakfast Options
Weekdays can get hectic, and something as simple as oversleeping or losing a shoe can send the morning into chaos! But a good breakfast is a must, even on busy mornings, so stock up with plenty of grab-and-go options for those mornings when there's just not time to make scrambled eggs and pancakes. With 10 grams of protein per serving, heat-and-eat Farm Rich Bakery Cinnamon French Toast Sticks are a great source of energy that kids love eating, available at Food Lion.
2. P - Practice, Practice, Practice
Waking kids up early after a summer of sleeping in can be downright painful! As summer winds down, practice getting kids up earlier by 15 minutes a day so they won't be as cranky. If kids have nerves surrounding a new year, attend the school's open house, meet the teacher and run through bus or carpool pick-up processes – in essence, make it all feel familiar.
3. L - Look Ahead
All parents have experienced the panic of having a child tell them about a special school project or event at the last minute. This year, avoid mishaps by prepping for the day ahead of time. When kids get home, go ahead and deal with permission slips and paperwork, and talk about what they may need in the coming days. Pack lunches, select outfits and gather items for after-school activities in advance to avoid morning hiccups and meltdowns!
4. U - Undo 'Hanger' Pangs
By the time kids walk through the door after a long school day, it's been hours since they've had anything to eat. Low blood sugar and math problems don't add up, so solve both with a satisfying snack. These quick-frozen Cinnamon Sugar and Blueberry Scones are easy to pop in the oven, and pair perfectly with a tall glass of milk for calcium and boosted brain power. Now available at a local Walmart.
5. S - Sweet Rewards
Kids (and adults) love a little pat on the back for a job well done, so set up a system to motivate students for success. Younger kids might like a sticker chart, while teens may want to study their way to cold hard cash. Something as simple as an end-of-week sweet treat can go a long way in inspiring kids to keep their grades up. Farm Rich Donut Holes are the perfect bite-sized breakfast, after-school snack or dessert incentive, and can be made in the microwave in less than a minute. Available at Walmart in both Chocolate with Vanilla Glaze and Cinnamon Sugar.
Learn more about the Farm Rich Bakery line of delicious "complaint-proof" products, which can go from the freezer to kiddos in a matter of minutes. Visit http://www.farmrich.com/bakery.