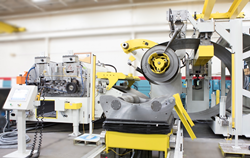 Sterling Heights, Michigan (PRWEB) August 21, 2017
COE Press Equipment has announced the launch of its new patent pending SpaceMaster® Series 5 compact coil lines, which combine unwinding, straightening and feeding of coil stock into a single piece of compact equipment that can fit within 28 ft. of floor space where a conventional line feeding a metal stamping press would require a 50-ft. to 60-ft. footprint.
The servo-driven feeder-straightener has 5-in. diameter straightening rolls and 6.7-in. diameter pinch rolls for processing heavy-gauge and high-strength metals. The straightener rollers provide a smaller radius around which to bend the material to accommodate advanced high strength steels (AHSS), which need to be bent more severely in order to exceed higher yield points. Featuring COE's advanced heavy duty straightener head design, the SpaceMaster Series 5 enables stampers and fabricators to process a wider range of materials including materials with yield strengths up to 1000 Mpa.
Another key feature of the SpaceMaster Series 5 design is its servo-driven pilot release, which momentarily relieves built up stress and binding of the strip through the feed and die due to feed length variation, misalignment, or camber of the coil strip. Whereas most roll feeds and feeder-straighteners are provided with air or hydraulic operated pilot release mechanism, COE's design provides more accurate piloting timing, faster pilot release, and higher SPM's. The systems also feature powered pull-off rolls to maintain tension on heavy-gauge and high-strength materials.
The SpaceMaster Series 5 lines are capable of handling coil materials from .040-in to 0.620-in. thick, 24-in. to 72-in. wide, and 10,000-lb. to 60,000-lb. coil weights. Metals capable of being processed include CRS, HRS, AHSS, stainless and aluminum. The systems are capable of press feeding speeds of 50 to 60 SPM.
For more information, you can visit http://www.cpec.com/spacemaster.html
COE Press Equipment designs and manufactures a complete line of premiere coil handling and servo roll feed equipment from stand-alone roll feeds, straighteners, reels, cradles and air feeds to complete integrated feed systems and cut-to-length lines. The company supplies and services a wide variety of global markets and industries including automotive, appliance, lighting, metal processing, housewares, lawn and garden, contract stampers, tool and die builders, and many others. To learn more, visit http://www.coepress.com.