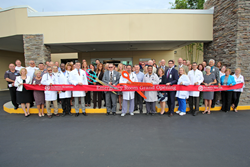 Following 18 months of construction, our ER has been completely redesigned to ensure greater patient comfort, privacy, and timely attention to our patients' emergency medical needs.
ZEPHYRHILLS, FL (PRWEB) August 17, 2017
Florida Hospital Zephyrhills showcased its newly renovated $5 million Emergency Room (ER) on Wednesday, August 16, to community partners. The newly renovated ER was designed with patients in mind and offers: 24 private rooms, a designated "Fast Track" area for minor emergencies, eight semi-private rooms to deliver patient results, improve efficiencies and reduce length of stay, two pirate-themed pediatric rooms and an expanded Clinical Decision Unit (CDU) close to the ER. The CDU has 20 private beds for patients who require an extended period of testing, evaluation, treatment and observation.
"Following 18 months of construction, our ER has been completely redesigned to ensure greater patient comfort, privacy, and timely attention to our patients' emergency medical needs," said Alexander Garcia, MD, Florida Hospital Zephyrhills ER Medical Director. "We've streamlined the registration process, improved the flow for better efficiency and upgraded our Fast Track area. In addition, we created a pediatric-friendly environment to support our younger patients, as we've experienced an increase in pediatric visits over the past several years."
Last year, Florida Hospital and Johns Hopkins All Children's Hospital announced an exclusive affiliation to deliver high quality pediatric care, where parents and caregivers can access care closer to home for pediatric patients in Hillsborough, Pinellas and Pasco counties. That includes access points in Florida Hospital emergency rooms throughout the Greater Tampa Bay area, as well as Johns Hopkins All Children's Hospital in St. Petersburg. The ER at Florida Hospital Zephyrhills is staffed with board certified emergency room (ER) physicians who have adopted clinical protocols from Johns Hopkins All Children's Hospital's evidence‐based standards of care for pediatric emergency medicine. If children need a higher level of care beyond the ER, they will be transferred to be seen by a Johns Hopkins All Children's Hospital physician, either in Hillsborough or Pinellas county, depending on geography and level of acuity.
During Phase I of construction at Florida Hospital Zephyrhills, a new lobby was created that includes a separate, pirate-themed pediatric area. Here, children have access to three interactive game kiosks offering a variety of games to help keep them entertained during their ER visit. Distracting children can be very helpful in reducing pain and anxiety for children who are sick, and it helps keep siblings entertained so pediatric patients can receive medical care.
The new ER design is enhanced by spa-like colors, an airy environment, coffee bar, snack machines, and restrooms for family members and guests. It also includes a security station in the main lobby of the ER to help keep all ER visitors safe and secure.
"Last year we had more than 35,000 emergency room visits," said Seta Ruiz, RN, Emergency Department and Clinical Decision Unit Director for Florida Hospital Zephyrhills. "Our community is constantly growing and this renovation will help us stay at the forefront of servicing our county's emergency care needs."
About Florida Hospital Zephyrhills
Florida Hospital Zephyrhills is an award winning 149-bed regional medical center located in East Pasco County. It is a proud member of the Adventist Health System, providing a legacy of health and healing for more than 150 years. The hospital offers the only comprehensive cardiovascular program in East and Central Pasco County, including open heart surgery and valve repair. Equipped with eight technologically advanced surgical suites, the hospital provides a full range of inpatient and outpatient surgical services including, but not limited to general, orthopedic, endoscopic, gynecology, urology, cardiovascular and robotic procedures. The Women's Health Center at Florida Hospital Zephyrhills provides gynecology, urology, pelvic floor health, obstetrics and breast care through the Simpson Breast Health Center. And, the hospital's newly renovated ER delivers emergency medical care 24/7 with a fast track suite for minor emergencies. Other programs and services include a Wellness Center, Wellness Spa, Center for Wound Healing, Bone and Joint Center, Outpatient Rehabilitation and Diagnostic Imaging. To learn more visit FHZeph.org.