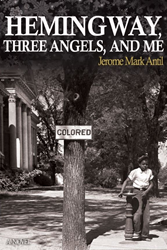 "We Never Said We Were Sorry"
Dallas, Texas (PRWEB) August 19, 2017
In 1953, twelve year old Jerry traveled from upstate New York to Little Rock, Arkansas to visit a sister about to have a baby. While there he witnessed 'Colored ONLY' signs at the city ZOO - restrooms and at the movie theater. Signs that told a white person where they could drink from a fountain and fountains for 'Colored ONLY'. Jerry never got over the culture shock and the guilt that went along with it. He vowed one day to do something about it.
The time came when he saw Obama running for president. It was a 60 Minute interview when the moderator asked Michelle Obama if she feared for his life during the campaigning. "It's a risk for a black man just pumping gas," she said. The final straw came when Antil saw a press conference where President Obama said that he remembered as a Senator crossing a street and hearing car doors lock.
Antil's book - Hemingway, Three Angels, and Me - that actually has a flap that says, "We never said we were sorry," has been selling worldwide. In fact the international - UK and Denmark - BOOK AWARDS - where authors are the judges - selected Antil's, Hemingway, Three Angels, and Me as the second best adult novel in Europe in 2017.
"The acceptance of the book in America is so disappointing," says Antil. I sent copies to President Obama with a note that I would donate as many books to as many schools as he or his family wished. I received no response. I called a public figure in New Orleans and offered to donate a copy of the book to every middle school or high school child there and I was told..."They don't read." It was stated as if the "N" word was being replaced by the "T" word - 'they'. After that I donated $50,000 worth of the book to each and every high school student in a deep south 2,700 student high school....and even now, a year later I've never got so much as one thank you letter from a teacher or student."
"The "N" word is disgraceful," says Antil. "But the 'T" word seems to be setting America back hundreds of years. We're allowing a political correctness of calm and order by complacency - to win over the encouragement of love, respect, and enabling and encouragement our nation's flag brags about."