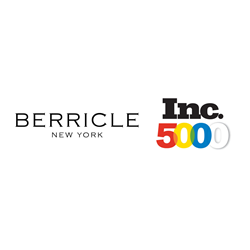 As a family-run business, we have a responsibility in contributing to improvements within our community by participating in philanthropic initiatives.
New York, NY (PRWEB) August 18, 2017
BERRICLE, a leading brand in premium quality lifestyle fashion jewelry, has been named to the 2017 Inc. 5000 list, the most prestigious ranking of the nation's fastest-growing private companies. The 2017 Inc. 5000 list marks BERRICLE's fifth consecutive year on the list and places BERRICLE on the Honor Roll, a distinction that fewer than a tenth of Inc. 5000 honorees achieve.
On average, companies that made the list this year have grown sixfold since 2013. A mere seven percent of the companies have made the list five times. The renowned list offers unique insights into cutting-edge innovations brought by the most successful companies within America's small and mid-sized businesses.
As an Inc. 5000 veteran, BERRICLE has maintained rapid growth since its conception in 2011. Based in New York City where competition is as fierce as it is inspiring, BERRICLE shares the unstoppable vision and yearns for the greater achievements that are deeply rooted in the city's characteristics.
"We feel beyond grateful and incredibly honored for being recognized for our company's achievements," expressed Kevin Chen, President of BERRICLE. "As a family-run business, we have a responsibility in contributing to improvements within our community by participating in philanthropic initiatives. We are motivated to make a difference and give back to fellow charity organizations who have supported us throughout our journey."
BERRICLE has partnered with various reputable non-profit organizations in a collaborative effort to further engage with the community. In their long-term collaboration with BreastCancer.org, BERRICLE donates 10% of its exclusive Breast Cancer Awareness Collection's proceeds to support research and awareness programs.
Over the past year, BERRICLE has garnered attention from national media outlets such as ABC channels, Bridal Guide, Marie Claire, Cosmo for Latinas, and People StyleWatch. BERRICLE's celebrity enthusiasts enclose Angela Bassett who fell in love with the exquisite Art Deco collection and Holly Taylor who debuted a BERRICLE armor ring at the Critic's Choice Awards.
BERRICLE's ultimate mission is to bring out the inner sparkle in all their customers and inspire brilliance in their everyday lives through attainable luxury jewelry and outstanding customer service.
About Inc. Media:
Founded in 1979 and acquired in 2005 by Mansueto Ventures, Inc. is the only major brand dedicated exclusively to owners and managers of growing private companies, with the aim to deliver real solutions for today's innovative company builders. For more information, visit http://www.inc.com.
The Inc. 5000 is a list of the fastest-growing private companies in the nation. Started in 1983, this prestigious list of the nation's most successful private companies has become the hallmark of entrepreneurial success.
About BERRICLE:
BERRICLE is a lifestyle jewelry brand dedicated to creating attainable luxury through classic and contemporary designs. Founded in 2011 with the mission to create the premier web-based destination for high-quality sterling silver, gold-plated, and cubic zirconia jewelry, BERRICLE has grown to offer extensive collections from engagement styles to trendy fashion designs. For more information, visit https://www.BERRICLE.com.
Media/Press Contact:
Hao Wang
hao(at)berricle.com
1-888-925-7569