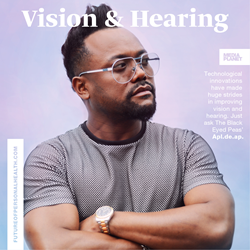 New York, NY (PRWEB) August 18, 2017
Mediaplanet today announces the launch of this summer's edition of "Vision & Hearing" campaign, advocating for active, healthy lifestyles and highlighting the importance of proactive eye and ear health. The campaign focuses on today's resources available for individuals with hearing impairments and shares the latest innovations in hearing aid technology.
In this issue, the National Association of Specialty Health Organizations discusses age as the strongest predictor of hearing loss in adults. One in four people ages 50-59 experience hearing loss, with severity increasing over the years. Hearing loss can affect status and success of employment and lead to social isolation and depression; yet hearing loss often goes untreated. Together Embrace Hearing and Mediaplanet are raising awareness on the benefits of purchasing hearing aids online, as well as the impact high tech hearing aids have on quality of life.
The print component of "Vision & Hearing" is distributed within today's edition of USA Today in Chicago, Los Angeles, Minneapolis, New York and Atlanta markets, with a circulation of approximately 250,000 copies and an estimated readership of 750,000. The digital component is distributed nationally, through a vast social media strategy, and across a network of top news sites and partner outlets. To explore the digital version of the campaign, click here.
This campaign was made possible with the support of Embrace Hearing, the American Speech-Language-Hearing Association (ASHA), Canine Companions for Independence, European Union of Hearing Acousticians (EUHA), National Association of Specialty Health Organizations.
About Embrace Hearing
We are committed to providing you with high performance hearing aids at the best price possible. Our devices are normally only available at retail audiologists but, because we buy directly from the European manufacturer, and eliminate retail overheads by selling exclusively online, we are able sell them for about 1/3 of the retail price. Our audiology team start with your hearing test and then custom program our state of the art, German technology hearing aids to meet the precise specifications of your hearing needs. To learn more visit https://www.embracehearing.com or call us anytime at (888) 929-9555.
About Mediaplanet
Mediaplanet specializes in the creation of content marketing campaigns covering a variety of industries. We tell meaningful stories that educate our audience and position our clients as solution providers. Our unique ability to pair the right leaders with the right readers, through the right platforms, has made Mediaplanet a global content marketing powerhouse. Our award-winning stories have won the hearts of countless readers while serving as a valuable platform for brands and their missions. Just call us storytellers with a purpose. Please visit http://www.mediaplanet.com for more on who we are and what we do.
Press Contact:
Maureen McCarthy
maureen.mccarthy(at)mediaplanet.com
(646) 979-2836