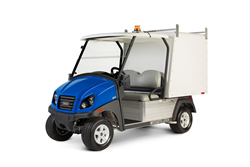 We designed our new van boxes based on user feedback. They feature bolt-on replaceable panels, reinforced corners and other features that address common user problems.
Augusta, Ga. (PRWEB) August 18, 2017
As part of its ongoing Transportation Solutions Program, Club Car introduces two new van box systems based on commercial customer and dealer feedback. The boxes address problems such as damaged panels and corners, water intrusion and security.
One is designed specifically to fit Carryall 500 work utility vehicles and street-legal Carryall 510 LSVs (low speed vehicles) with standard lockable double rear doors.
The other is designed for Carryall 700 work utility vehicles and street-legal Carryall 710 LSVs. This larger box features three lockable double doors, one set on each side and one set on the rear. Both boxes are made of rustproof powder-coated aluminum.
Look at These Value-added Features
"The boxes feature a new robust design that looks similar to traditional van boxes, but comes standard with features that improve performance and returns on investment," says Utility Product Manager Jerod McDowell. Those include:

Interior LED lighting for greater visibility
Bolt-on panels that allow for easy replacement in the event of damage. In most van boxes, the sides are welded together.
Reinforced corners that increase durability in commercial applications
No windows, which eliminates leaking and improves cargo security
Magnetic catches on unlatched doors for easy opening and closing, especially on inclines
The boxes come standard in white or gray. Other colors are available at a slight charge.
Increase Flexibility with These Accessories

Optional shelves that increase the usable area within the van boxes and are ideal for parcels or supplies
-Carryall 500/510 shelf supports 75 lbs. (34 kg)
-Carryall 700/710 shelf supports 150 lbs. (68 kg)

Dual top-mounted ladder racks that support 150 lbs. (68 kg)
High-mount brake light and backup light system that improves visibility and safety. These items are required on Carryall 510/710 LSVs.
To reduce shipping costs, the boxes are available pre-assembled for domestic shipments and dealer-assembled for international shipment.
To learn more, visit http://www.clubcardealer.com and contact your local Authorized Club Car Dealer.
About Club Car
Club Car, one of the most respected names in the golf industry, is the world's largest manufacturer of small-wheel, zero-emissions electric vehicles. The company's Precedent® golf cars, exclusive Visage™ Mobile Golf Information System, and Carryall® turf utility vehicles are integral to successful operations at thousands of courses around the world. Carryall utility and transport vehicles are used in a variety of commercial, industrial, government, rental and resort applications. The company also offers street-legal, low speed vehicles (LSVs) for personal and commercial use, all backed by Club Car's 50+ year legacy of superior design, manufacture and service. Club Car is part of Ingersoll Rand, and is based in Augusta, Ga. Visit http://www.clubcar.com.