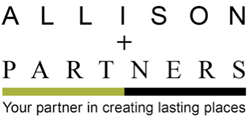 Katie has been a leader in our office for years, her ascension to partner is well deserved. Her work on our award-winning projects and across everything we do makes Katie central to the success of our company," Chris Hartsfield
Little Rock, AR (PRWEB) August 24, 2017
Allison + Partners, a leading Little Rock-based architectural firm with offices in northwest Arkansas, today announced the promotion of Katie Bruhl, AIA, LEED AP, to partner.
"Katie has been an integral part of our firm since the day she walked in the door. We could not be happier that she is now a full partner in our organization," said Aaron Ruby, AIA, LEED AP, Principal, Allison + Partners.
Katie graduated from the University of Arkansas with a Bachelor of Architecture in 2007. She began working at the firm as an intern in 2008, received her licensure in 2013, and in 2015, was promoted to Senior Associate. She is a member of the American Institute of Architects and USGBC Arkansas Chapter. As a LEED Accredited Professional, Katie helps incorporate sustainable design strategies early in the design process.
"Katie has been a leader in our office for years, her ascension to partner is well deserved. From her work on our award-winning Faulkner Performing Arts Center project and across everything we do, Katie is central to the success of our company," Chris Hartsfield, AIA, Principal, Allison + Partners, commented.
Bruhl has been instrumental in many of Allison's projects, including the renovation and addition to the John Gould Fletcher Library in Little Rock; the addition and renovation to St. Margaret's Episcopal Church in Little Rock; and the renovation of the University of Arkansas, Fayetteville, historic Field House into the new Faulkner Performing Arts Center. The project received the Highest Honor Award from AIA Arkansas, and was recently recipient of an AIA Regional Award. The project also earned LEED Silver, with Bruhl as the LEED Accredited Professional responsible for the documentation.
"Our work always begins with envisioning our clients' goals and teaming with them to make the project a success. I could not be more excited to expand my commitment to the firm and our clients with this announcement. I love what I do, and I look forward to being a part of Allison + Partners throughout my career," Bruhl said.
Allison + Partners specializes in providing design services for numerous private and public clients, including higher education institutions, libraries, and schools. The firm also has a long history of work in renovation and restoration of civic and commercial spaces.
Individuals and organizations that are searching for an Arkansas based architect can view the firm's portfolio at http://www.allisonarchitects.com/projects.html.
About Allison + Partners:
Allison + Partners was founded in Little Rock, Arkansas in 1996. With offices in Little Rock and Fayetteville, the architecture firm has created many lasting spaces throughout Arkansas. Dedicated to providing personalized and responsive services, the team produces innovative and sustainable solutions for its clients. Visit http://www.allisonarchitects.com to learn more about the design team and its completed projects.