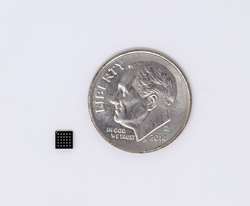 Campbell, Calif. (PRWEB) August 17, 2017
Keyssa®, the leader in high-speed, contactless connectivity, today announced its next-generation component connector product, the KSS104M, delivered in an ultra-compact 3 x 3mm footprint and featuring improved electrical and mechanical allowances for ease of design in, drastic reduction in power, and support for many industry standard high-speed protocols. Keyssa will also be releasing the KSS104M-CW (Connected World), a ready-to-use contactless connectivity module that includes all the system-critical electromagnetic and mechanical requirements to implement the KSS104M in mobile and other system products.
The KSS104M is the latest in the line of Keyssa's Kiss Connectivity solutions, which are tiny, low-cost, low-power, solid-state electromagnetic connectors that enable large amounts of data to be securely transferred between devices at very high speeds. As with prior generations, the KSS104M can be easily integrated into customers' end products without requiring any changes to their software or firmware, by supporting several industry standard high-speed data and video protocols. The KSS104-CW, an electromagnetic module system based on the KSS104M, addresses power delivery, mechanical attach mechanisms, electromagnetic channel design including, waveguides case properties (including colors and finish) and materials requirements. This module can be used across multiple application spaces enabling faster time-to-market utilizing highly-reliable contactless connectors.
The KSS104M-CW represents commercialization of Keyssa's vision to free the mobile phone from annoying cables, eliminate unreliable mechanical connectors and the interference they create, provide data throughput that far exceeds what is available on wireless networks, and ultimately unleash industrial design innovation previously blocked by traditional connectors.
"Consumers and manufacturers have always begrudgingly accepted the need for mechanical connectors. Keyssa has spent 9 years in R&D to understand all the technical requirements needed to implement high-speed contactless connectivity in mobile products. Countless man years later and after 250 filed patents, we have the KSS104M and the KSS104M-CW," says Eric Almgren, CEO, Keyssa. "Now, this compelling connector-free capability is available to manufacturers who want ease of implementation and testability, enabling very high volume and confidence in system yield and reliability."
"With the KSS104M, we have focused on extending Keyssa's leadership in contactless connectivity by combining our industry-leading performance and power and delivering it in an extremely tiny footprint, ideal for embedding in compact mobile or embedded IoT devices," says Satish Ganesan, VP Product at Keyssa, who has previously managed high-volume wireless and IoT products at companies such as Broadcom. "Further, the KSS104M has been designed to deliver very high customer system yields due to its high reliability and industry-leading mechanical allowance that simplifies high-volume manufacturing."
Foxconn Interconnect Technology (FIT), an investor in Keyssa, is working to help bring Keyssa's product to market by building high-speed contactless connector modules (KSS104M-CW) that can be integrated into systems. "Keyssa's contactless connectivity solution represents a completely new and disruptive form of device connectivity, free from wires," says Sidney Lu, CEO of FIT. "With the KSS104M's advantages in contactless signal connectivity, it is expected that by integrating the KSS104M with power and mechanical attach mechanisms in a contactless connectivity module, the module can be used across multiple application spaces enabling faster time-to-market and highly reliable contactless connectors."
"The KSS104M-CW is designed with our Connected World initiative in mind," says Steve Venuti, VP Marketing at Keyssa. "Our ecosystem partners need to know that high-speed connectivity can be easily and reliably implemented in systems, with extremely high system yield, in volumes in the range of hundreds of millions, and at a very low system BOM (bill of materials)."
Beyond the technical improvements of the KSS104 product line, the KSS104M key features include:

3 x 3mm package with integrated antennae
Support for multiple high-speed video and data protocols including USB 2.0
Operates at speeds up to 6Gbps
Very low system BOM (bill of materials)
High reliability and high customer system yields
The KSS104M is currently running through extensive high-volume manufacturing qualification across tolerances, temperature, humidity, drop test, protocol backward compatibility (USB), movement, vibration, and other high-volume mobile qualifications. The KSS104M is currently sampling to customers.
About Keyssa
Founded in 2009, Keyssa, Inc. developed its breakthrough Kiss Connectivity solution, based on a proprietary solid-state connector that uses Extremely High Frequency (EHF) radio waves to provide low-power, high-speed data transfer – securely and simply. With over 250 patent filings, Keyssa reinvented the connector. Managed by an experienced team of multidisciplinary technologists and standards experts, Keyssa's investors include Alsop Louie, Dolby Family Ventures, Foxconn, Foxconn Interconnect Technology, NantWorks, SK hynix, Intel Capital, Neuberger Berman, and Samsung.
# # #
Copyright © 2017 Keyssa, Inc. All rights reserved.
Keyssa, the Keyssa logo and the K logo are trademarks of Keyssa in the United States and other countries. Other names used are for informational purposes only and may be trademarks of their respective owners.