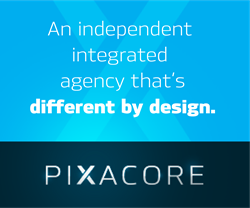 The partnership mentality, agility and innovation has, and will continue to fuel our growth.
New York, NY (PRWEB) August 21, 2017
PIXACORE, an independent full-service agency with a decade of experience building healthcare brands, was recently named one of the Top 100 agencies of the year by MM&M.
This is the first time PIXACORE has made the Top 100 list in MM&M's annual agency issue, marking an important milestone for the agency. PIXACORE's newfound recognition reflects its steady trajectory of growth and recent strategic transformation. The agency continued its impressive journey by growing 110 percent in the past 12 months, adding key staff to complete its transition from multi-channel specialist to integrated marketing powerhouse.
Learn more about why PIXACORE was named to the Top 100 here.
Founder and CEO Sanjiv Mody attributes much of PIXACORE's success to the agency's omnichannel approach to customer engagement and collaborative model of client interaction. "We've remained loyal to our digital roots while significantly deepening our bench," he says. "And we've managed to retain the agility and personal touch that got us to where we are today."
Mody emphasizes PIXACORE's unique ability to bring astute scientific and marketing insights to life via innovative technology: "In 2016, we led the industry in integrating new technologies like Virtual Reality across multiple brand and pipeline portfolios. In 2017 and beyond, PIXACORE will remain at the forefront of technologic advances to provide measurable results for our clients."
ABOUT PIXACORE
PIXACORE is an independent, full-service agency with a core in digital technology. It boasts a diverse team of experts across brand strategy, tactical planning, content strategy, medical copywriting, creative, user experience, programming, motion design, relationship marketing, SEO/SEM, social media, and analytics. The agency is headquartered in the heart of New York City at 15 West 39th Street, New York, New York. They also operate a satellite office in Mumbai, India.
Learn more about PIXACORE here