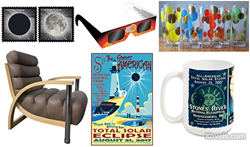 Cleveland, Ohio (PRWEB) August 18, 2017
In celebration of the first total solar eclipse visible in the United States in 38 years, Kovels.com has gathered a list of eclipse-related items, old and new, worth collecting. Why not start an eclipse collection!
There will be lots of eclipse merchandise that's sure to be collectible. Keep an eye out for posters, signs, mugs, pins, t-shirts and those crazy looking but so-important eclipse viewing glasses and more. Many are personalized with the event date and viewing location.
The eclipse even has its own U.S.P.S. postage stamp, a first-of-its-kind thermochromic stamp that changes when you touch it. The image on the total Eclipse of the Sun Forever Stamp is a photograph taken during a total solar eclipse viewed from Libya in 2006. When rubbed with a finger, body heat helps reveal an underlying image of the moon. The image reverts back to the eclipse once it cools.
We've also found, and pictured, some vintage and antique eclipse-themed items:
1) Vintage "Eclipse" pattern tumblers (pictured in thumbnail) designed by Russel Wright, made by Bartlett Collins Co. that were made in several sizes: 4 oz. cocktail tumbler, 9 oz. and 13 oz. old fashioned tumblers, 12 oz. hi-ball tumbler (pictured) and 14 oz. "Sooner" Zombie tumbler. The polka dot pattern was listed in four colors: green, blue, red and yellow. Sets sell for $200 to $240 in online shops. 2) "Eclipse" club chair (also pictured) designed by Jay Spectre, made by Century Furniture in the 1980s. Bleached oak and chrome frame with leather, 33 by 26 in., $3,500 in an online shop. 3) "Eclipse" Regulator eight-day calendar clock, made by Sessions Clock Co., Conn., c.1930s, 33 by 18in., sold for $100. And 4) Glasses used to view August 1932 eclipse, found at a flea market.
Whatever peaks your celestial interest, be sure to step outside and catch the eclipse on August 21. And be sure to wear protective eyewear—and the Kovels say remember to save it!
Terry Kovel is America's foremost authority on antiques and collectibles. She is the well-known columnist and author of more than 100 books on antiques and collecting. The 50th annual Kovels' Antiques & Collectibles Price Guide will be published later this year. The 2017 edition is currently available at Kovelsonlinestore.com and local bookstores. Terry Kovel will discuss antiques and collectibles topics with accredited media. Photographs are available. Contact pr(at)kovels(dot)com.
About Kovels.com
Kovels.com, created by Terry Kovel and her daughter, Kim Kovel, provides collectors and researchers with up-to-date and accurate information on antiques and collectibles. The company was founded in 1953 by Terry Kovel and her late husband, Ralph. Since then, the Kovels have written some of America's most popular books and articles about antiques, including the best-selling Kovels' Antiques & Collectibles Price Guide 2017. The website, Kovels.com, online since 1998, offers more than a million free prices, and includes a free weekly email, "Kovels Komments." It gives readers a bird's-eye view of the market through the latest news, auction reports, a Marks Dictionary, readers' questions and answers and much more.
Contact Information:
Liz Lillis
216.752.2252
Pr(at)kovels(dot)com