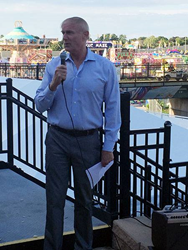 It makes us especially proud when the businesses that call Brookfield home are enhancing the lives and well-being of others.
Brookfield, WI (PRWEB) August 17, 2017
Brookfield, WI-based RF Technologies (RFT), a leading provider of wireless safety and security solutions for healthcare, hospitality and education, is celebrating its 30th year in business this month.
The company was founded by CEO Glenn Jonas whose career had begun at manufacturing companies Square D, Allis Chalmers and Johnson Controls. Following his years in the manufacturing world, Jonas spent 15 years in consulting, during which time he gained significant exposure to the hospital and senior living industries. At the time, Jonas was intrigued to discover that although the senior care market was rapidly expanding, there were few providers of wander management solutions to help caregivers keep these individuals safe. That revelation formed the basis for Code Alert, RFT's first product.
"During the first 10-15 years," Jonas relates, "product ideas came mainly from customers. For example, in June of 1989 I received a call from a hospital asking if RFT's Code Alert system could be adapted to protect babies while they were away from the nursery." In fact, says Jonas, "I still have the memo I wrote asking my engineering staff whether RFT could meet this need—this is the origin of SafePlace, RFT's infant and pediatric security solution."
Aldermen Gary Mahkorn and Rick Owen of the Brookfield Common Council were on hand August 4 as RFT employees celebrated reaching the 30-year mark with a Wisconsin State Fair outing. Mahkorn, an 18-year council veteran, spoke briefly at the gathering, "I can tell you, it's given me a great deal of pride to see businesses come into Brookfield. Also, it makes us especially proud when the businesses that call Brookfield home are enhancing the lives and the well-being of others." Sean Pettibone, who came on board in July as RFT's president, concurred, "Glenn Jonas, our founder, started this company with an important mission to keep people safe. That mission resonates with me, as it does all RFT employees."
RFT is proud to be part of just a small percentage of startup companies that make it to 30 years. With 140 employees based at both the corporate offices and across the country, RFT's consistent challenge, asserts Jonas, is "to lead the effort in helping senior care facilities and hospitals provide the best possible care for the elders and infants entrusted to them." Reflecting on reaching the 30-year mark Jonas comments, "Having accomplished this feat is a tribute to the many fine folks who have worked at RFT over the years. We have been blessed to have so many dedicated and passionate people committed to helping the company stay competitive and grow."
About RF Technologies:
RF Technologies is a leading provider of safety and security solutions for the healthcare, hospitality, and education markets, leveraging radio frequency identification (RFID) and real-time locating system (RTLS) technologies. The RF Technologies brand family includes CODE ALERT® call and wander management systems, SAFE PLACE® patient security systems, SENSATEC® fall management products, HELP ALERT® staff duress systems, and EXACTRACK® equipment location systems. With more than 10,000 installations, RFT was the first in the industry to offer remote monitoring, RF consulting, 24/7 technical support by internal staff specialists, and a nationwide service team.