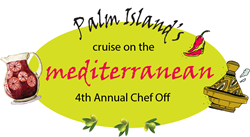 Huntington Beach, California (PRWEB) August 21, 2017
Five chefs from local senior assisted living homes will serve Mediterranean-inspired gourmet dishes to raise money and awareness for Alzheimer's Family Center.
Guests will be able to vote for their favorite Chef among the following:
GREECE
Chef Mark Gagnon from Newport Beach Plaza
Braised Lamb Shank with Fennel Dill Salad
Feta Cheese Sauce & Garlic Pita Crisp
Greek Mountain Ice Tea
ITALY
Chef Gabriel Reyes from Westminster Terrace
Shrimp with Penne Pasta
Caprese Salad Skewers
Peach Bellini drink
FRANCE
Chef from Ricardo Lopez The Groves of Tustin
Coq Au Vin
Pommes Boulangère
Orange Juliette
MOROCCO
Chef Erwin Lazaro from Sunrise Senior Living
Moroccan Meatballs
Couscous
Cucumber & Mint Tea
SPAIN
Chef Rafael Bello from Merrill Gardens
Halibut Fillet Navarra
Gourmet Mushroom Risotto
Sangria
Date and Time: Thursday, September 28, 2017 from 11:30am to 01:30pm.
Cost: $20 PER PERSON (Includes entry, lunch ticket with voting and 10 raffle tickets)
Hosted at Palm Island Senior Apartment Homes:
11300 Warner Avenue
Fountain Valley, CA 92708
(714) 546-5404
Tickets:
To purchase tickets or for more information, please contact Amanda Urrutia at (714) 546-5404 or piaactivities(at)rentpalmisland(dot)com
About Alzheimer's Family Center
Alzheimer's Family Center (AFC) is Orange County's only adult day health care facility dedicated exclusively to caring for dementia patients. AFC has a 37-year history of improving the quality of life of families challenged by memory loss, such as Alzheimer's disease or another dementia. Patients benefit through customized programming tailored to the needs of each individual, from the earliest to the most advanced stages of dementia. Families find respite from the demands of caregiving, and the assurance that their loved one is receiving expert memory care, delivered with dignity and respect.
Recent studies show that AFC makes a positive impact on the health and wellbeing of its patients. Our patients experience 43% fewer falls and a 25% reduction in emergency room visits within six months of enrollment in AFSC's programs. As a result, AFC family caregivers find the responsibilities of caregiving to be more manageable when their loved ones are home, away from the center. AFC also provides family caregivers with support and referrals to manage the medical, emotional, and financial challenges of caring for a memory-impaired loved one.