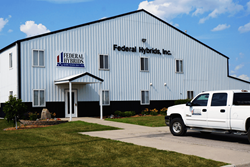 Jupiter, FL (PRWEB) August 18, 2017
Producers of the award winning American Farmer television series proudly announce that they will feature Federal Hybrids, Inc. in an upcoming episode, scheduled to broadcast fourth quarter 2017. American Farmer airs Tuesdays at 8:30aET on RFD-TV.
American Farmer will explore Federal Hybrids, the independent, family-owned seed company. Educating audiences about its broad portfolio of products to help maximize diversity and reduce risk.
Viewers will learn how through experiences, discipline, and integrity, Federal Hybrids works, plans, builds, and dreams for a better, and a more prosperous tomorrow, and how they are helping farmers achieve goals through personal relationships and industry leading seed corn, soybean, and alfalfa products.
"The world's population will grow from 7.5 billion now to over 9.5 billion in 2050. As we look to the future, we are focusing on U.S. farm averages of 300 bushels per acre on corn and 100 bushels per acre on soybeans. At Federal Hybrids, we are doing our part to feed the world," said Tim Butikofer, Federal Hybrids President. "Our mission is to help the American farmer increase their production, be more competitive in today's marketplace, and reduce hunger worldwide."
"As the demand for high quality food rises, farmers have both an opportunity and responsibility to help feed the growing world," said Jennifer Tierney, Senior Producer for the American Farmer series. "Federal Hybrids' products help producers thrive, now and into the future."
About Federal Hybrids:
Federal Hybrids markets corn, soybeans, and alfalfa seed throughout the United States and is quickly becoming one of the fastest growing, independent, family-owned seed companies in the Midwest. Federal Hybrids offers an excellent portfolio of leading-edge genetics and technology that will significantly boost profit on every acre planted. The company understands that proper genetic and technology selection based on soil types, cultural practices, and yield goals will increase productivity and yield. For more information, visit: http://www.federalhybrids.com
About American Farmer:
American Farmer is a breakthrough program on a mission to showcase the latest advancements in agriculture and farming. From seed to harvest, livestock and more, our producers have traveled the country covering the people, places and issues impacting all areas of farm country.
American Farmer airs Tuesdays at 8:30am ET on RFD-TV. Check your local listing for show times.
For more information visit http://www.AmericanFarmerTV.com or contact Jennifer Tierney at (866) 496-4065 or via email at: info(at)americanfarmertv.com.