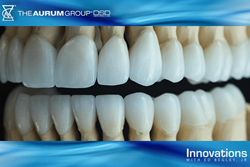 Jupiter, FL (PRWEB) August 19, 2017
DMG Productions, producers of the award winning series, Innovations with Ed Begley, Jr., will feature the Aurum Group in an upcoming episode, slated to air fourth quarter 2017. Check your local listings for more info.
This segment of Innovations will feature the Aurum Group; a company committed to supporting dentistry using the most technologically advanced restorative materials and techniques available today. Focusing on the Aurum Group's partnership with DSD Global and the Digital Smile Design Concept (DSD), the show will educate audiences about the technology, and its ability to capture the unique essence of the patient's existing smile through an intuitive and guided clinical approach. Clinicians are able to create a custom smile design that is as individual as each patient, providing them with a preview of the prosthetic result, while also giving technicians the necessary information to complete the restorations – resulting in a more natural, emotional, and artistic smile.
"We care about our customers' ability to offer the latest technology in comprehensive interdisciplinary dentistry," said Mark Maier, president and CEO of The Aurum Group, "so we've partnered with DSD founder Christian Coachman to bring the gold standard in smile design to the North American dental market.
During the past 10 years this concept has been taught to more than 90,000 dental professionals worldwide, is being applied daily as a state-of-the-art patient centric approach, and has been cited as a scientific concept in numerous peer-reviewed articles.
"DSD is a proven, step-by-step methodology, having been used for almost a decade by top dental technicians and dentists in order to improve the quality of esthetic dental treatments," said Stephanie Derra, Producer for the Innovations series. "We look forward to highlighting this groundbreaking technology."
About Aurum Group:
Applying technology, technique and research from around the globe, The Aurum Group of Companies has made these the cornerstones of a tradition of excellence. Its affiliated companies cover all aspects of comprehensive interdisciplinary dentistry. From implants to digital dentistry, the Aurum Group delivers accurate, functional and aesthetic appliances, prostheses and restorative solutions.
The Aurum Group has always been committed to supporting dentistry with not only the most technologically advanced restorative materials and techniques available, but also in-terms of research, education, and program assistance. Through its worldwide network and never-ending search for the best in proven new technologies and methodologies, Aurum Group brings the latest innovations and experience from around the world to bear on individual case situations, every day. For more information, visit: http://www.aurumgroup.com and http://www.digitalsmiledesign.com.
About Innovations and DMG Productions:
Innovations, hosted by award winning actor Ed Begley, Jr., is an information-based series geared toward educating the public on the latest breakthroughs in all areas of society. Featuring practical solutions and important issues facing consumers and professionals alike, Innovations focuses on cutting-edge advancements in everything from health and wellness to global business, renewable energy, and more.
DMG Productions (responsible for creating the Innovations show) includes personnel specialized in various fields from agriculture to medicine, independent films to regional news and more. Field producers work closely with experts in the field to develop stories. This powerful force enables DMG to consistently produce commercial-free, educational programming that both viewers and networks depend on.
For more information visit: http://www.InnovationsTelevision.com or contact Stephanie Derra at (866) 496-4065 or via email at info(at)InnovationsTelevision(dot)com.