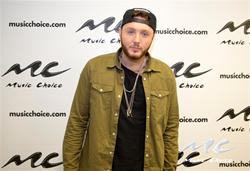 James Arthur stated: "I'm honored to be a part of the Artists to Watch program. I know first-hand how hard it can be to be musician and to get noticed, to have your music heard."
New York, NY (PRWEB) August 18, 2017
In a bid to help emerging artists bolster their fan base, Music Choice today announced the launch of "Artists To Watch", a monthly cross platform new artist program highlighting the hottest new artists in all genres and their videos each month On Demand. The series kicks off this August in the ALL PLAYLISTS folder and will feature Tee Grizzley, James Arthur, Royal Blood and Ayo & Teo in the first installment of the series. (Directional: Music Choice On Demand>ALL PLAYLISTS)
Tee Grizzley stated: "I'm grateful to be on Music Choice's Artist to Watch list. I'm taking over their video channel on August 4th, so go get the app to see what I'm up to!"
James Arthur stated: "I'm honored to be a part of the Artists to Watch program. I know first-hand how hard it can be to be musician and to get noticed, to have your music heard. It's been my dream to make it in the States, and I couldn't be happier to have my music heard by more people thanks to Music Choice."
"Hello! Its Ayo & Teo, we're so excited to be a part of Music Choice Artist to Watch Campaign! We wanted to tell all of our supporters that we love all of y'all & you can now watch all of our videos and listen to our music On Demand!"
The Artists To Watch Playlist is a unique opportunity for emerging artists to be featured across all Music Choice properties. Each month, Music Choice will highlight four- five emerging artists across genres to promote the playlist handpicked by the Music Choice Programming Team. Artist's videos will receive top-level folder placement On Demand, airplay on their respective music and video channel and artist curated takeovers on weekends.
Fans are encouraged to support their favorite artists by watching videos in the playlist and sharing with their friends on social media. They are also encouraged to tune in each weekend for Music Channel and Video Channel takeovers.
The first artists and videos featured in the Artists To Watch Playlists include:

Tee Grizzley is one of hip-hop's hottest lyricists. Hailing all the way from Detroit, Michigan, the emcee has made a name for himself with his viral single, "First Day Out." Everyone from Jay Z to Lebron James has cosigned the rapper and the rest of world is starting to recognize Tee's potential has one of rap's most important breakout artists of the year.
Following two years away from the spotlight, British musician James Arthur returned last fall with his single "Say You Won't Let Go." The song shot straight to #1 in his native U.K., where it remained for 3 consecutive weeks. Last fall, James released his second album entitled Back From The Edge, which again went straight to #1 in the U.K. "Say You Won't Let Go" has been streamed more than one billion times around the world; the single is one of the Top 10 best-selling singles in the U.S. in 2017.
British rock band Royal Blood's sophomore Warner Bros. Records album How Did We Get So Dark? has debuted at No. 1 on the U.K. albums chart. In the U.S., the album debuted in the Top 10 on the Current Albums, Hard Music Albums, Rock Albums, Alternative Albums, and Overall Digital Albums charts. After becoming the biggest breaking British rock band with their self-titled 2014 debut album, How Did We Get So Dark? is one of the most anticipated releases of the summer

Brothers Ayo + Teo have used social media as a tool to make small dance moments major. The uploaded videos of the duo, expertly dancing to some of Hip-Hop and R&B's biggest records, mixing the latest dance steps yet making them their own, has led to their viral success. Their first single, "Rolex" has received over 100 million views and continues to grow. The self-taught dancers now teach superstars their moves and create songs that millions dance to.
Get Music Choice on all your devices, and find out more at app.musicchoice.com