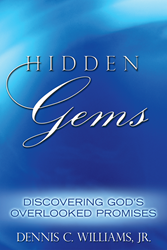 BELLINGHAM, Wash. (PRWEB) August 21, 2017
God gave Moses a promise that would endure for a thousand generations – something applicable for every Christian. It's powerful, provocative and has broad implications. Unfortunately, it's been frequently overlooked. When Dennis Williams, Jr. revisited the book of Deuteronomy, he sees God's character and His vision for our lives with a fresh perspective. This is the message in the heart of his newly released book, "Hidden Gems: Discovering God's Overlooked Promises."
The book reflects on Williams' personal discovery of God's character. Williams shares scripture, interjects personal stories and challenges the reader to begin their personal journey of discovery. "Hidden Gems" also highlights what it means to be a Christian by joyfully embracing His counsel, claiming his promises and watching Him act.
"God wants the best for all of His children, regardless of whether they acknowledge Him," said Williams. "The book will transform and inspire readers as they are exposed to new lessons about God's character."
"Hidden Gems" will provide readers with a renewed spirit of discovery, compassion and services as it brings a new perspective on the many promises provided in scripture.
"Hidden Gems"
By: Dennis C. Williams, Jr.
ISBN: 978-1-4908-9289-4 (sc); 978-1-4908-9291-7 (hc); 978-1-4908-9290-0 (e)
Available on WestBow Press, Amazon and Barnes and Noble
About the author
Dennis C. Williams Jr. graduated from Loma Linda University with a bachelor's degree in biology, earned his MBA from the University of Hawaii and is Director of Finance at a software company. He is the creator of CashMap, an interactive iPad application. Williams and his wife, Linda, have three children and live in Bellingham, Wash.
Review Copies & Interview Requests:
LAVIDGE – Phoenix
Chris Peña
480-998-2600 x 519
cpena(at)lavidge(dot)com
General Inquiries:
LAVIDGE – Phoenix
Kalin Thomas
480-998-2600 x 560
kbatts(at)lavidge(dot)com