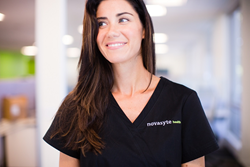 The hard work and dedication our teams continue to put forth is the biggest reason for our ongoing success. - Tim Gleeson
Carlsbad, CA (PRWEB) August 18, 2017
Novasyte is excited to announce that they ranked 2,428 on the 2017 Inc. 5000 List of Fastest-Growing Private Companies in America. This is a notable achievement as it's the fifth consecutive year Novasyte has been recognized and only seven percent of all applicants have made the list five times. Additionally, 2017 marks a significant jump in rank for Novasyte from 3,591 to 2,428.
"It's an honor to be named a fifth-time honoree," said Tim Gleeson, Novasyte CEO. "The hard work and dedication our teams continue to put forth is the biggest reason for our ongoing success."
Novasyte is recognized for sustaining a three-year growth rate of 70 percent which resulted in expanded corporate and field teams supporting more than 50 percent of the top 25 global med-tech companies.
Each year Inc. determines America's most successful and rapidly growing organizations to be recognized on the list. Businesses are ranked by revenue growth between 2013 and 2016. Additionally, the companies must be privately owned and based in the United States.
The Annual Inc. 5000 Gala will be held on October 10-12, 2017 at the JW Marriott Desert Springs Resort & Spa in Palm Desert, CA.
To check out the complete Inc. 5000 list, click here.
About Novasyte
Novasyte partners with med-tech companies, offering outsourced commercial service teams for clinical, sales, field technical and recall support. Our flexible model enables us to build, deploy and manage teams that expand and contract to meet our clients'​ customer-facing needs. Program success is tracked and measured with our real-time business intelligence analytics that provide our clients with critical insights into their most important resources - their people and their customers.