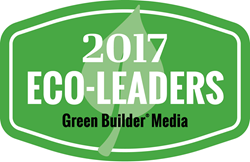 Lake City, CO (PRWEB) August 21, 2017
This year's chosen Eco-Leaders (http://www.greenbuildermedia.com/green-builders-2017-eco-leaders-home) understand the competitive advantage of sustainability. These inspired companies have developed advanced products, enabling technologies and innovative manufacturing processes that reduce our environmental footprint, improve people's lives, and enhance profitability.
These Eco-Leaders are not relying on the federal government or regulations to tell them what to do relative to climate action. Rather, they're taking things into their own hands, proactively making the choice of progress: adopting renewable energy, conserving resources, reducing carbon emissions, and developing novel business strategies.
The Green Builder Media team celebrates the sustainability efforts of this year's Eco-Leaders:

Siemens: as one of the largest manufacturers in the world, Siemens' ambitious goal of reducing greenhouse gas emissions by 50% by 2020 and becoming carbon neutral by 2030 is significant. The company's Intelligent Infrastructure Solutions provide sophisticated data that optimize the performance of our homes, buildings, transportation systems, and cities.
Jinko Solar: the world's largest solar panel manufacturer (by global shipment volume), Jinko's photovoltaics enable widespread and efficient harvesting of the sun's power. Beyond the inherent sustainability of the company's products, Jinko is determinedly reducing impact of its manufacturing processes—in just the last two years, the company has reduced its energy consumption by 53%, water use by 76%, and carbon emissions by 53%.
Toyota Motor Corporation: the world's second largest automotive manufacturer isn't shying away from setting bold sustainability commitments. With its Environmental Challenge 2050 program, Toyota is on a path not only to become net zero, but to have a net-positive environmental impact by mid-century. The company has pledged to reduce the carbon emissions from its vehicles by 90%, develop next-generation vehicles (hybrid, plug-in hybrid, electric, and fuel cell), implement vehicle recycling programs, adopt renewable energy, reduce the environmental footprint of its manufacturing processes, and plant trees to offset its impact.
Delta Electronics: a global powerhouse in display technology, PV invertors, telecom equipment, and ventilation fans, Delta Electronics has already reduced the energy use in its facilities by 50%, with a commitment to cut an additional 30% by 2020. The company deploys real-time monitoring systems that identify energy savings and carbon reduction opportunities in its facilities.
Ingersoll Rand: a perennial Eco-Leader selection, Ingersoll Rand continues to lead the pack when it comes to comprehensively and holistically addressing corporate sustainability issues. Guided by Scott Tew at the Center for Energy Efficiency and Sustainability (CEES), IR is making carbon emissions and environmental impact a thing of the past. The company has committed to decrease the refrigerant GHG footprint of its products by 50% by 2020, incorporate lower global warming alternatives across its product portfolio by 2030, and recycle equipment to extend product lifecycle. IR has pledged to invest $500 million in product-related research and development over the next five years to support the company's ongoing reduction of carbon emissions.
Panasonic: focused on the nexus between solar, clean air, and net zero, powerhouse Panasonic produces a wide array of products that are making our cities and communities smarter, safer, cleaner, and more efficient. Panasonic's Eco Solutions program focuses on reducing energy use, developing ventilation product guidelines, and creating healthier indoor air environments.
Owens Corning: a leader in fiberglass composites, insulation and roofing, Owens Corning has pioneered the area of asthma- and allergy- friendly building envelope products. To augment a spectrum of sustainable manufacturing and green building initiatives, the company purchases 250 megawatts of wind power capacity (enough energy to power 65,000 U.S. homes), and Chief Sustainability Officer Frank O'Brien-Bernini continually challenges the company to explore the frontiers of corporate sustainability.
LG Electronics: one of the world's largest consumer electronics companies, LG has dramatically reduced its carbon footprint through the implementation of a program that rigorously analyzes of the environmental impact of products at every life cycle stage. The company has implemented aggressive product take-back and recycling programs, and it has pledged to reduce greenhouse gas emissions from its U.S. operations by 50% by 2020.
Congratulations to these Eco Leading companies for daring to be different, for accepting the responsibility of making the planet a better place, and for taking the risk to create positive change in the world. We commend their efforts.
Want to learn more about these and other Eco Leading companies? Join us as Green Builder Media's upcoming Sustainability Symposium: Champions of Change (http://www.greenbuildermedia.com/champions-of-change-2018) on January 8, 2018 at the University of Central Florida campus in Orlando, Fla. The event will directly and honestly confront the reality of climate change—the challenge of our generation, and the opportunity of a lifetime—and will highlight the activities of today's leading corporations, building professionals, cities, and sustainability advocates.