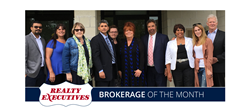 Phoenix, AZ (PRWEB) August 18, 2017
Realty Executives International is proud to announce that Realty Executives Edge has been named Brokerage of the Month for July 2017. Led by Broker of Record Nelson Mathew, the firm has grown by over 40 percent since the start of the year, also expanding from their headquarters in Guelph, Ontario to neighboring city Cambridge.
"Our brokerage is growing bigger and getting better each and every day. Our office has a great mix, including real estate veterans with over 30 years of experience working alongside agents who are new to the industry. We are both multi-generational and of various ethnicities," says Mathew.
"Our members are involved in a variety of community groups and charitable organizations that enrich both the neighborhoods we serve and the real estate industry locally. We strive to serve our diverse, multicultural community on a variety of levels beyond the real estate transaction."
Realty Executives Edge plans to move to a larger office space in Guelph by the end of the year to accommodate growth.
"The growth of Nelson's Guelph office demonstrates the value of a partnership between a Broker/Owner and a company that are both committed to serving their public's best interests," adds Brian Gilmour, Vice President of Franchise Development at Realty Executives Regional Ontario.
"Nelson brings to the table a vision for what he wants to achieve, a willingness to invest in his goals and a persistence and work ethic to make it all happen. More outstanding, however, is his understanding that success is based on his ability to create an environment for his agents' success."
Realty Executives Edge is also in the process of setting up a REALTOR® Development and Training Centre, with Mathew noting that training and mentorship are at the forefront of the brokerage's success.
Extending our congratulations to the staff, agents, and Brokers of Realty Executives Edge, we at Realty Executives International wish them continued success.
About Realty Executives Intl. Svcs. LLC
Established in 1965, Realty Executives International is one of the largest and most established real estate franchise systems in the world, with over 8,000 agents and 500 offices globally. The company offers disruptive pricing models particularly attractive to top performing agents. Its unrivaled mobile technology, business tools, training and concierge service are coupled with protected territories and financing for qualified franchisees. The Scottsdale-based, privately held company has been ranked as a leader in the real estate industry by publications like Entrepreneur, Success and Inc. magazines. For additional company information visit http://www.RealtyExecutives.com.