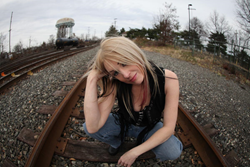 (PRWEB) August 18, 2017
Lipstick Tomboy, the latest EP release from rising Americana /Alt-Country artist Lisa Bouchelle, has now surpassed 1.1 million streams on Spotify, with over 35,000 monthly listeners. A video for the first single, a duet with John Popper of Blues Traveler called "Only The Tequila Talkin'," has garnered over 100,000 views on YouTube.
A national tour to support the release will begin in October, as Bouchelle will hit the road with fellow Americana artist Martin Sexton. The tour will hit most major east coast cities. She will be heading to the Midwest, south, and west coast in the near future as well.
Lipstick Tomboy has received airplay on notable Triple A radio stations such as WXPN in Philadelphia and KCSN in Los Angeles, as well as on SiriusXM on Little Steven's Underground Garage. It was awarded the Disc of The Day prize by legendary MusicRow columnist and tastemaker Robert Oermann; was the "Catch of The Day" on K-LAW 101 "Oklahoma's Best Country;" the "Breakthrough Artist Of The Week" on KICK 97.9 "Today's Best Country;" held its own when pitted against Garth Brooks on New Music Smackdown Tuesday on Cat Country 98.7; was a featured video on the M Music and Musicians Magazine website; was the featured monthly video in New Jersey Stage Magazine; and a Top 20 Download on the Daily Play MPE Chart.
Bouchelle has sung backup for Bruce Springsteen, dueted in concert with Jon Bon Jovi on his hit "Who Says You Can't Go Home," and toured with and/or opened for Meat Loaf, Blues Traveler, Ingrid Michaelson, The Nitty Gritty Dirt Band, America, Bryan Adams, Don Felder of The Eagles, The Wailers, Kansas, Train, and many others.
"Highly Recommended" – Goldmine Magazine
Read the full review here: http://www.goldminemag.com/blogs/filled-sound-may
In a sea of ballads this song stands out. We have all been there, done that, but it was never as fun as this tune. Lisa has great pipes and a great song...This is a hit!
-Ted Crammer, WIFE Connersville, IN
"The amazing country duet "Only The Tequila Talkin'." Blues Traveler's John Popper lends a hand with his undeniable vocals and fabulous harmonica work. Lisa and John work together perfectly on this new country radio staple."
-The Record-Journal, Meriden, CT - Read the full review here: http://jpsmusicblog.blogspot.com/2017/02/cd-review-new-music-from_27.html
"She sings in a sunny, bright soprano and the tune is a bopping ditty… Duet partner Popper adds some much needed soul and grit to the proceedings. Highly listenable."

Robert Oermann, Nashville's MusicRow
"Living up to her reputation as one of the hardest working musicians… a star of the future, and judging from this performance, the not-too-distant future at that!"

"…She can stand toe-to-toe with any of her songwriting contemporaries..."

Pete Fornatale, the late, great, legendary SiriusXM Syndicated Radio Host
Upcoming Tour Dates (partial Listing):
(Appearing with Martin Sexton)
October 13 - Tarrytown Music Hall, Tarrytown, NY
October 14 - Landmark on Main Street, Port Washington, NY
October 20 - World Cafe Live, Philadelphia, PA
October 22 - The Hamilton, Washington, DC
October 27 - The Ridgefield Playhouse, Ridgefield, CT
October 28 - Auru, Portland, ME
November 3 - The Bergen PAC, Englewood, NJ
November 4 - Cathedral of St. Joseph, Brooklyn, NY
November 11 - Infinity Hall, Norfolk, CT
December 1 - Iron Works, Buffalo, NY
December 2 - Club Helsinki, Hudson, NY
December 16 - The Wilber Theater, Boston, MA
About Lisa Bouchelle:
Lisa started singing at the age of 4, when she stood on a picnic table and sang "America The Beautiful" at a local talent show. That's when she first realized she could make a difference with her voice. Although both her parents loved her dearly, they fought constantly with each other. Her mother was an alcoholic, and her father, who had to leave school in the 8th grade, worked three jobs just so the family could get by. It almost seemed like the only time the arguing would stop was when little Lisa would sing. "It seemed like they would smile and be happy when I sang," recalls Lisa. "That's the only time everything seemed OK." So Lisa would sing as much as she could, and whenever she could.
Alcoholism took her mother from her, and her father died soon after from complications during a heart operation. Now alone in the world, Lisa set her sights on fulfilling her dream, and making her father proud. She started playing in every local coffeehouse and bar, sometimes seven nights a week. Now, she still sings every chance she gets, whether it be driving thousands of miles across the US on her own, which she's done several times while doing solo tours, or playing in the train station for tips. In fact, she was interviewed on NPR Radio several years ago about her experiences "busking" in the Philadelphia train station.
Bouchelle has also managed to find time to create and host the TV show "Rock Star Kitchen," in which she schmoozes with platinum selling artists in her kitchen, talking about music and touring, while cooking up their favorite dishes. Guests have included Foreigner, Eddie Money, Chubby Checker, Lita Ford, Tonic, Candlebox, Theory Of A Deadman, Bowling For Soup, Night Ranger, Peter Mayer from Jimmy Buffett's Coral Reefer Band, and many others. The show has become the top-rated original content show on The Comcast Network in the Philadelphia region. Lisa also made an appearance on the hit TV show Gossip Girl, and had a starring role in an off-Broadway production.
Bouchelle's background has made her very conscious of the plight of others who have difficult circumstances. She co-wrote and co-produced the charity single "Restore The Shore," which benefited the victims of Hurricane Sandy, and featured Garry W. Tallent (Bruce Springsteen's E Street Band), Jerry Gaskill (King's X), Southside Johnny, Glen Burtnik (Styx), Gary U.S. Bonds, Bobby Bandiera (Bon Jovi), Jay Siegal (The Tokens), Hal B. Selzer (Joan Jett), Winston Roye (Soul Asylum), Steve Forbert, John Easdale (Dramarama), and many other prominent Jersey shore musicians. It was mixed and co-produced by Michael Barbiero (Guns N'Roses, Metallica, Maroon 5).
Bouchelle also works with several major charity musical groups. One is the nationally known group "Holiday Express," which plays over 50 shows every November and December at homeless shelters, for aids patients, handicapped children, and other disadvantaged individuals. Another is the Philadelphia chapter of Musicians On Call, for which she goes once a month to an area children's hospital, singing for the children that are suffering from very serious diseases. Lisa says she gets as much out of it as the children do, sometimes moved to tears, such as when a bedridden little girl, who hadn't smiled in a very long time, started singing with Lisa on Katy Perry's "ROAR"... "I got the eye of the tiger, a fighter... You're gonna hear me roar!"
For further updates please check out http://www.lisabouchelle.com.