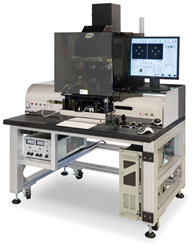 San Jose, CA (PRWEB) August 18, 2017
OAI, a leading Silicon Valley, CA-based manufacturer of advanced precision Lithography Equipment for the Semiconductor, MEMS, and Microfluidics Industries, announces the new Model 800E front and backside, semi-automatic mask aligner system. This system offers features and specifications found more often in automated production mask aligners. OAI has already received and installed several orders for the Model 800E Mask Aligner.
With the development of this new mask aligner, OAI meets the growing challenge of a dynamic semiconductor and MEMS market with a new class of mask aligners that are engineered for R&D and low volume production. Built on OAI's proven modular platform, the Model 800E is an enhanced, high-performance, high-resolution lithography system which delivers a level of performance that is offered at an extremely compelling price point. The aligner system features OAI's Advanced Beam Optics which delivers exceptional uniformity. Upgradable using OAI's Precision Lithography Modules, the Model 800E is a highly versatile tool in the lab or in low-volume production. The Model 800E utilizes a Windows 7 PC control platform with extensive recipe storage capacity. The system also comes with joystick-controlled alignment and optics stages, and can be configured with non-contact, 3-point wedge effect correction and auto-align capability. These combined features are typically found in automated production mask aligner systems but are now available on the Model 800E at a more affordable price.
Dr. Charles D. Turk, CEO of OAI notes, "The Model 800E is unique owing to the inclusion of advanced features which are found in our Model 6000 production mask aligner tool. By utilizing the proven OAI modular mask aligner platform, we are able to adopt technology from our more advanced tools to produce a powerful system at a more affordable price".
The Model 800E offers a package of powerful features:
Standard front-side mask aligner features include: Dual 1MP resolution GIGE CCD cameras, motorized joystick, vacuum, hard soft & proximity exposure modes and Auto Wedge Effect Compensation. Standard backside features include all front-side features plus two additional cameras, digital zoom and motorized backside optics focus.
About OAI
Headquartered in San Jose, CA, OAI has developed a time-tested platform of modularized subsystems, which serve as the core of a custom configured photolithography system. This proven approach controls cost, improves reliability, increases system flexibility, and ultimately reduces the overall cost of ownership. All OAI products are manufactured in the USA in San Jose, CA and are in use worldwide. OAI is a member of SEMI and the MEMS & Sensors Industry Group. The product line includes Mask Aligner Systems, UV Light Sources, LED UV Light Sources, Solar Simulators, I-V Test Systems and UV Measurement Instruments. Cost-effective, affordable solutions are the hallmark of the OAI brand.
For more information:
http://www.oainet.com
sales(at)oainet(dot)com
685 River Oaks Parkway
(408) 232-0600
Media contact:
Robert Goldberg
robert(at)startupfactory(dot)biz
(415) 987-6677