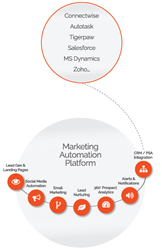 Pittsburgh, PA (PRWEB) September 05, 2017
Mindmatrix marketing automation software's new feature allows users to take their marketing and sales assets to the next level by adding interactive banners to them.
This feature basically allows the user to create attractive banners using text, images, videos, call to action buttons, slideshows and fancy animation styles. These banners can be made a part of external assets created using the Mindmatrix marketing automation software, such as landing pages, emails, web forms, etc. It can also be used internally, such as for the internal sales playbook, partner portal welcome page, the dashboards, etc.
Mindmatrix CEO, Harbinder Khera says, "As a company, we have always worked to make the marketer's job easier and the salespeople more independent. This is one more step in that direction. The Interactive Banner feature allows users to create amazing sales and marketing assets with zero coding knowledge. Just drag and drop a few elements here and there and you have a great landing page with a slideshow banner or an email with an interactive CTA! Another important aspect is that the interactive feature can be also used by companies internally to drive adoption and engagement of the Mindmatrix platform by their channel partners and salespeople. Companies can use this feature for announcements, such as the addition of new sales assets, employee of the month, or availability of new MDF. These interactive banners can be put up on the welcome page of the partner portal or on the dashboard or in the internal playbook section, so it gets the channel partner's/salesperson's attention."
About MindMatrix
Mindmatrix is the only single, fully integrated platform offering complete sales and marketing enablement for direct and indirect sales. Mindmatrix combines Partner Relationship Management (PRM), Channel Marketing, Asset Management, Sales Enablement, and Marketing Automation for the complete enablement of your sales and marketing teams. This unified platform takes you through every step in the sales process from lead to revenue, enabling your sales channels to sell more, faster.
End-to-end services that make you successful