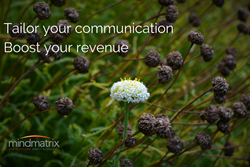 Pittsburgh, PA (PRWEB) September 26, 2017
With a view to increasing channel engagement levels, Mindmatrix Partner Relationship Management Software's dashboard and partner portal now offers users a more personalized experience by allowing companies to customize the font style and portal colors to match their branding standards or those of the channel partners or the organization.
Mindmatrix partner portal allows for easy, centralized, yet local, marketing and sales messaging. It allows corporate marketing arms to create sales and marketing collateral and automatically tailors them for channel partners and their prospects, thus improving channel partner messaging and helping channel partners become more effective at selling without impacting the corporate brand.
Speaking about the Partner Relationship Management Software's channel partner portals, Harbinder Khera, (CEO-Mindmatrix) said, "Every organization knows how important it is for their channel partners to share their marketing and sales vision. But, more often than not, companies find it challenging to pull them onto the same page. Mindmatrix Partner Relationship Management Software provides a solution to this challenge with its channel partner portals and partner dashboards. Walking that extra mile in a relationship just goes to show how much you care and always strengthens a relationship. The same goes for your relationship with your channel partners. If you want your channel partners to choose you over other vendors, you need to stand out. You need to treat your channel partners like an extended sales team, give them every kind of support they need to sell, make them feel like a part of your organization and our customized partner portals and dashboards are a step in that direction."
About MindMatrix
Mindmatrix is the only single, fully integrated platform offering complete sales and marketing enablement for direct and indirect sales. Mindmatrix combines Partner Relationship Management (PRM), Channel Marketing, Asset Management, Sales Enablement, and Marketing Automation for the complete enablement of your sales and marketing teams. This unified platform takes you through every step in the sales process from lead to revenue, enabling your sales channels to sell more, faster.
End-to-end services that make you successful