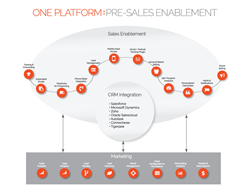 Pittsburgh, PA (PRWEB) October 09, 2017
Mindmatrix has updated its sales enablement software's web editor to add four new features. These include the ability to add personalized navigation skins, anchor tags, move elements by simply dragging and dropping them and support for SVG format images in web assets. This upgrade also boasts a brand new editor especially for Blogger, which brings more design and formatting flexibility to blogs auto-posted using the Mindmatrix Sales enablement software.
The web navigation skins allow users to personalize the navigation and menu of existing templates to match their brand standards. This will be especially useful for companies with channel partners as they can give their corporate web assets a local feel by customizing them to suit partner branding.
Keeping tabs with the recent trends, the sales enablement software's web editor has also been upgraded to include easy addition of anchor tags. The anchor tags allow web page visitors to easily navigate from one section of the page to another, without having to jump pages. This update also makes it much easier for users to move objects around a web page by simply dragging and dropping them.
This update also comes with the SVG image compatibility that allows users to make SVG images a part of their web assets such as landing pages and microsites. The benefit of using SVG images is that they offer higher clarity than JPG and PNG images, despite a lower image size.
Harbinder Khera, CEO, Mindmatrix, says "The whole idea behind the Mindmatrix Sales Enablement Software is to make it easier for salespeople and channel partners to sell. And, one way to do that is by reducing their dependency on corporate marketing teams, so that every salesperson or channel partner has what they want when they want it. Updating our web editor is a step in that direction, making it easier for users to create attractive web assets such as landing pages and microsites in a couple of mouse clicks. That's one step closer to making it easier for them to sell."
About MindMatrix
Mindmatrix is the only single, fully integrated platform offering complete sales and marketing enablement for direct and indirect sales. Mindmatrix combines Partner Relationship Management (PRM), Channel Marketing, Asset Management, Sales Enablement, and Marketing Automation for the complete enablement of your sales and marketing teams. This unified platform takes you through every step in the sales process from lead to revenue, enabling your sales channels to sell more, faster.
End-to-end services that make you successful