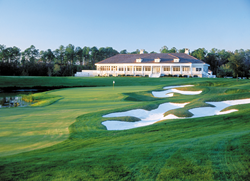 We have been close partners with Founders Group for years and are extremely happy to announce this initiative and to help grow golf with them in the Myrtle Beach area.
Myrtle Beach, S.C. (PRWEB) August 18, 2017
Founders Group International (FGI) teamed up with Adidas to create a special offer for golfers. The first 1,000 golfers who book two rounds now on any of Founder's 22 Myrtle Beach area golf courses will get a $50 Adidas rewards card. The card can be used on any Adidas merchandise at any FGI golf course.
"We've been a long-standing partner with Adidas and it's one of the most popular brands with golfers who play our courses," says Steve Mays, acting president of Founders Group International. "The Adidas package is a natural fit because we also have strong ties with Adidas brand ambassador, PGA champion Dustin Johnson, who played his college golf here and has the Dustin Johnson Golf School at TPC Myrtle Beach. With this package, you can get some great Adidas gear like Dustin wears and tee it up at two of our Founders Collection courses."
TPC Myrtle Beach is the only Myrtle Beach golf course to ever be awarded 5 stars by Golf Digest. This course gives golfers the experience of PGA Tour-caliber golf. Designed by Tom Fazio, it's been played by greats including Tom Watson, Gary Player and Lee Trevino.
Another FGI course, Colonial Charters' 18-hole, par 71 course in Myrtle Beach is a pleasure to play for golfers of any skill level. It's challenging while providing a relaxing, picturesque wooded backdrop. All but two holes feature a water hazard, and two of those take golfers to waterfalls. Long hitters also enjoy the course, especially the high risk-reward holes.
Pine Lakes Country Club opened in 1927. It's called "The Granddaddy" for being the first course on the Grand Strand. Architect Craig Schreiner gave it a full-scale renovation in 2008, bringing it back into the spirit of the 1920s. The back nine still reflects the original design and the front nine was renovated to enhance the elegant experience golfers from around the world associate with Pine Lakes Country Club.
No matter what the handicap, Founders Group International has a course for any golfer. Its partnership with Adidas makes it the perfect time for golfers to give them a try.
"We have been close partners with Founders Group for years and are extremely happy to announce this initiative and to help grow golf with them in the Myrtle Beach area, " said Carl Montanye, Adidas Golf South regional manager.
About Founders Group International
Founders Group International (FGI) is the foremost golf course owner-operator company in the Southeastern United States. Formed in 2014 through various purchases and the 2015 acquisition of National Golf Management, FGI owns and operates 22 golf courses (423 holes) in and around Myrtle Beach, S.C., America's seaside golf capital.
Those courses include Pine Lakes Country Club, the "granddaddy" of Myrtle Beach area courses; TPC Myrtle Beach, host site of the 2019 NCAA Division I men's golf regional and Dustin Johnson World Junior Golf Championship; and Grand Dunes Resort Club, home of the Grande Dunes Golf Performance Center.
FGI administers http://www.MBN.com, a leader in online tee time bookings, as well as package outlets Ambassador Golf and Myrtle Beach Golf Trips. With the help of Golf Insider's 100 percent player-generated course ranking system, thousands of golfers plan and assemble their ideal golf itineraries through FGI's assets, including "top-100 caliber" courses Pawleys Plantation Golf & Country Club, King's North at Myrtle Beach National Golf Club, and more than 80 other Myrtle Beach area courses.
More information about Founders Group International, is available at http://www.foundersgroupinternational.com, http://www.mbn.com or MyrtleBeachGolfTrips.com.